Upper Manhattan
Uptown, the traffic lightens and the sky opens up. Start at the Museum of Natural History, then shoot up Central Park West and Harlem's Frederick Douglass Boulevard. Convent Avenue hosts the Gothic spires of City College, and the brownstones of Strivers Row are well worth a detour. Follow St. Nicholas Place, catching the spray of fire hydrants and errant merengue, to the new Harlem River path. The river's bridges are as awe-inspiring as the cliffs of the Hudson, which await on the other coast after the path opens into Inwood (if you're game, climb Fort Tryon Park to the Cloisters first). Switch to street level via a 145th Street elevator for a tranquil urban return along Riverside Drive and West End Avenue.
Directions
Approximately 14 miles1. Start near the Museum of Natural History stop—81st St. and Central Park West.
2. Ride all the way up Central Park West, which becomes Frederick Douglass Blvd.
3. Left on 121st Street, two blocks.
4. Right on Morningside Avenue, which will become Convent Avenue.
5. Right on 141st Street, two blocks.
6. Right on St. Nicholas Avenue, 3 blocks.
7. Left on 138th Street, down Strivers Row two blocks.
8. Left on Adam Clayton Powell Blvd., quick left on 139th Street.
9. Right back onto St. Nicholas Avenue.
10. Bear right onto St. Nicholas Place, follow bike path signs to Harlem River Drive.
11. Enter the Drive at 155th Street.
12. Take path to end, merge onto Dyckman Street.
13. Bear left onto Riverside Drive along Ft. Tryon Park—detour into park, walk bike.
14. Back down onto Riverside Drive, take left.
15. Follow signs to merge onto Hudson River bike path.
16. Ride down to 145th Street, take elevator up to Riverbank State Park.
17. Ride across footbridge to Riverside Drive, then take a right.
18. Ride down Riverside Drive down to 96th Street.
19. Left on 96th Street, first right onto West End Avenue.
20. Left on W. 82nd Street.
21. Right onto Central Park W., back to the B-C stop.

Brooklyn Waterfront
Brooklyn contains multitudes, and that's just along the river. Cross the Brooklyn Bridge and pass the gorgeous townhouses of Henry Street from Brooklyn Heights through Carroll Gardens. At the end of Red Hook's trendy-industrial Van Brunt Street, past the bake shops and faux-nautical bars, is the squat, redbrick Beard Street Warehouse, with views of the Statue of Liberty. At Valentino Pier, amateur fishermen enjoy condo-quality sight lines. The return trip offers more conventional prospects—the Brooklyn Heights Promenade and Fulton Landing. Farther still is Dumbo and its neglected cousin, Vinegar Hill, a Georgian Revival ghost town. Then it's a quick coast back over the Manhattan Bridge.
Directions
Approximately 24 miles1. Start at City Hall. Head across Park Row onto the bridge.
2. Take first right off the bridge onto Tillary Street.
3. Left on Cadman Plaza West, quick right on Clark Street. Left on Henry Street, down about a mile.
4. Right on Sackett Street, three blocks.
5. Left on Van Brunt Street, down to the end.
6. Walk bike at Beard Street Warehouse.
7. Go back up Van Brunt Street a block, then left on Van Dyke Street to the end.
8. Take sidewalk to avoid cobblestones.
9. Walk bike down Valentino Pier. Exit on Coffey Street, two blocks.
10. Left on Van Brunt Street.
11. Right on Union Street, quick left on Columbia Street.
12. Right on Congress Street, two blocks.
13. Left on Hicks Street, parallel to highway.
14. Left on Montague Street, to the Promenade.
15. Right on Promenade, walk bike to end.
16. Left on Columbia Heights, down the hill to Fulton Landing.
17. First left on Water Street, two blocks against traffic.
18. Left on Washington Street, quick right on Plymouth Street.
19. Enter park on left for a block, under the Manhattan Bridge.
20. Left back onto Plymouth Street.
21. Right on Hudson Avenue, then merge onto Navy Street for a block.
22. Right on Sands Street, down toward Manhattan Bridge.
23. Follow signs to the bridge entrance across the street on the left.
24. Coast down to the Manhattan exit, cross onto Canal Street.
25. Take Canal Street down to the Broadway subway station.

The Palisades
The Tour de France has ended, but you can still re-create one of its stages—at your own pace. Go over the George Washington Bridge, left on Hudson Terrace, left on Main Street, right on Route 505, and left on the River Road to begin a beautiful ride along the Hudson River in the Palisades Interstate Park, tucked away in the midst of dense foliage and the occasional waterfall. The roads are reminiscent of the classic races in Europe, and it's easy to forget that you are just minutes from the city. At the end of the River Road, you will be confronted with a leg-burning climb before the road turns into 9W, which leads south back to the city.
Directions
Approximately 38.1 miles1. Cross the George Washington Bridge.
2. Turn left at Hudson Terrace.
3. Turn left on Main Street.
4. Turn right on Route 505.
5. Turn left onto "the river road," as it's unofficially known.
6. Follow signs to Edgewater, Main Street; turn left on Main Street.
7. Turn right on Route 505 South, down steep hill.
8. Before the bottom of the hill, enter Palisades Interstate Park to start on the river road (which is unsigned).
9. Take river road north underneath the George Washington Bridge for 2.8 miles.
10. Bear left on river road north for 5.6 miles, including a long steep hill climb.
11. Take a left on Alpine Approach Road (which is unsigned) and go under Palisades Interstate Parkway (PIP exit 2) for 0.1 miles.
12. Take a right on Route 9W North—Palisades Blvd., follow it for 5.5 miles.
13. Take a left on Route 340 (to Sparkill), and exit left, down a steep hill.
14. Bear right on Route 340 North.
15. Take a right on Ferdon Avenue (goes east to Piermont, turns north at its end), follow for .8 miles, until it becomes Piermont Avenue (pass by Paradise Avenue).
16. Stop in Piermont for food.
17. Bear left on Piermont Avenur (north) for 3.6 miles.
18. Pass underneath Tappan Zee Bridge.
19. Cross Smith Avenue.
20. Take a left on Burd Street.
21. Take a right on Broadway (north), follow for 0.3 miles.
22. Cross Main Street stop at the Runcible Spoon in Nyack. Rest.
23. Turn around and go back south on Broadway, then turn left on Main Street.
24. Go right on Piermont Avenue (south), follow for 3.7 miles, crossing Smith Avenue en route, and enter Piedmont.
25. Bear right on Piermont Avenue (south) for 0.2 miles.
26. Turn right on Piermont Avenue (now going west), follow for 0.3 miles.
27. Turn left on unsigned road.
28. Turn right on Ferdon Ave. (west), follow for 0.4 miles.
29. Turn left on Route 340.
30. Bear left on Route 9W South entrance ramp, up hill.
31. Bear right on Route 9W South (starts with long climb up State Line Hill) for 9.7 miles. Enter New Jersey, down, then another climb, pass by Alpine Approach Road, Closter Dock Road, and Clinton Avenue.
32. Turn right at Sage (turn comes about 0.3 miles after Clinton Avenue).
33. Turn left Johnson Avenue, follow for 0.4 miles.
34. Turn left on Van Wagoner Drive.
35. Turn right on Floyd Street, follow for one mile.
36. Turn left on Palisade Avenue (east), follow for 0.3 miles.
37. Cross Route 9W.
38. Turn right on Route 505 South—Hudson Terrace, follow for 2 miles.
39. Finish at west end of south sidewalk of George Washington Bridge, at Hudson Terrace, Route 505 South.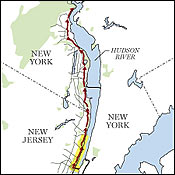 Bear Mountain
If you're looking to go the distance, a ride from downtown to Bear Mountain and back is around 100 miles, with a minimal number of turns. The route runs parallel to the Palisades—just go right on Hudson Terrace instead of left, then go left on Palisades Parkway, which drops you off on 9W, leading straight to Bear Mountain. What this ride lacks in breathtaking vistas it more than makes up for in diversity of terrain: You'll ride rolling hills, flats, aching climbs, and teeth-gritting descents. Be sure to make a quick pit stop at the Runcible Spoon in Nyack to refill your water bottles and talk to the incessant swarm of cyclists who are drawn to this small café.
Directions
Approximately 80 miles return trip1. Cross the George Washington bridge.
2. Turn right on Hudson Terrace, which is the first cross street in Jersey.
3. Turn left at Palisades Ave., which is a T-intersection.
4. Turn right onto Route 9W North. Stay on this all the way to Bear Mountain.