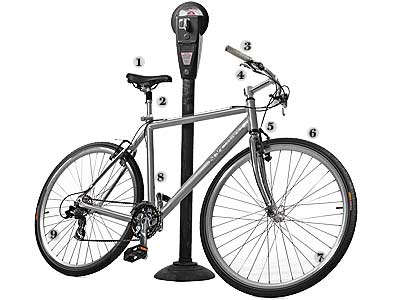 New York's car-clogged, pothole-ridden streets make for a unique cycling environment—and Williamsburg shop Spokes & Strings custom-builds bicycles specifically to navigate them. Owner Will Wood, 39, opened in 1999 as a basement gypsy outfit selling refurbished bikes bought at police auctions (and fixing guitars—hence the "Strings"). Today, from a large storefront (140 Havemeyer St., nr. S. 1st St.; 718-599-2409), he produces low-cost, rugged urban workhorses with a team of six mechanics.
Wood's NYCBikes have a light weight (for walkup schlepping), reinforced wheels to take daily abuse from cracked pavement, and a nimble personality to help weave through gridlock. Because Wood builds locally, he lets customers pick many of their own parts, and he gives the whole package a proletarian look, so it's less attractive to thieves. Here, we break down the NYCCrossSpeed (from $379), a model designed for everyday cycling.
(1) Saddle
The Velo Plush saddle has a relief channel cut out of the center to take the pressure off sensitive areas, but plenty of support in the rear for a comfortable ride.
(2) Seat Post
A shock absorber in the Post Moderne Cushy ST has an inch of travel—enough to protect your backside while retaining the feel of the road.
(3) Handlebar
You can pick a shape and size, but Wood likes the Boomerang, which swoops back to put the grips in a natural hand position, reducing wrist strain.
(4) Shifters
Shimano's EZ-Fire gear shifters let you use thumb or forefinger to click up or down without taking your hand off the grip.
(5) Fork
There's no heavy shock absorber, thanks to chromoly steel, which has a high strength-to-weight ratio, dampening road vibrations.
(6) Tires
Wide with slick treads in order to make better contact with the road—knobs slow you down and are less stable. For $30 to $50 more, you can upgrade to tires reinforced with bullet-proof Kevlar.
(7) Rims
All NYCBikes have wheels with double-wall rims, like these Vuelta Airlines. Single-wall rims, common on lower-priced bikes, are no match for city streets.
(8) Frame
Made of 7005 aluminum—light enough to carry, and reinforced at stress points.
(9) Gears
With 24 speeds and a Shimano Acera rear derailleur, the CrossSpeed handles the commute or an all-day trip to Coney Island.