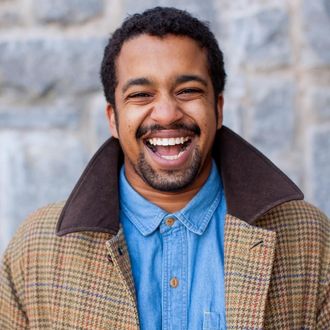 New York Magazine editor-in-chief Adam Moss and digital editor Ben Williams announced today that Rembert Browne (@rembert) is joining the publication as writer-at-large, and will cover culture in its broadest definition — entertainment culture, political culture, style culture — for Daily Intelligencer and Vulture, as well as for the Cut and the print magazine. In particular, he will bring his prismatic lens to New York's election coverage. He begins his new role November 16.
"Rembert is equally at home reporting from the front line in Ferguson, questioning President Obama on Air Force One, or writing a meditation on Nicki Minaj and pubescent boys," says Moss. "His voice moves easily from literary to loopy, driven always by his intelligence and unusually wide-ranging curiosity."
Browne was most recently a staff writer at Grantland, where he began working in 2011 and also hosted the "Rembert Explains" podcast. He lives in Brooklyn, and is originally from Atlanta, Georgia.
"Rembert is a very smart, funny writer who can cover a lot of different things for us," says Williams. "I look forward to reading him on everything from politics to sports to music."