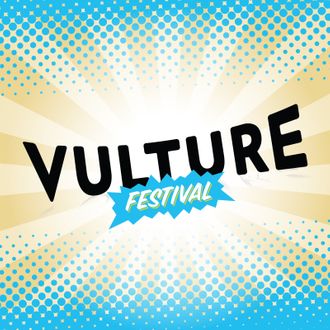 Vulture.com, New York Magazine's culture and entertainment site, today announced the dates for the 2016 Vulture Festival, a pop-culture extravaganza celebrating the best of today's television, music, film, comedy, and more. The festival will take place May 21-22, 2016, at Milk Studios in New York City, with a weekend-long series of high-profile events to be announced in the spring, where more than 10,000 guests are expected.
"Vulture Festival continues to build on its momentum from the first two successful years—in 2015 we presented A-list talent including Jerry Seinfeld, Amy Poehler, Lisa Kudrow, Tig Notaro, and Tavi Gevinson," says New York Media publisher Larry Burstein. "We are signing on new sponsors and partners earlier in the game this year, thanks to the festival's tremendous buzz."
Vulture has also announced its first group of media sponsors and content partners for the 2016 festival, with OUTFRONT Media, Carolines on Broadway, and podcasting network Earwolf onboard to contribute significant promotional assets and programming support. OUTFRONT Media, the U.S. leader in out-of-home advertising, is a new sponsor for 2016 and will contribute significant OOH media assets in New York City toward the promotion of Vulture Festival during tickets-on-sale season of April and May.
"OUTFRONT Media is thrilled to be aligned with Vulture Festival for 2016," says Jodi Senese, CMO, OUTFRONT Media. "The festival's unique client entertaining opportunities and incredible talent lineup make it an ideal fit for us."
Comedy is an important coverage area for Vulture and the festival's Comedy Night is one of its most popular events. To further build out the comedy experience in 2016, the festival is teaming up with Carolines on Broadway to collaborate with Vulture staff on comedy events that will take place at the festival.
"Carolines on Broadway has a well-established history of developing and presenting comedy talent, from the up-and-coming to the industry's biggest stars, and we're looking forward to working with Vulture to expand on the festival's comedy programming," says Caroline Hirsch, Founder and Owner of Carolines on Broadway and the New York Comedy Festival.
As interest in digital audio continues to boom, Vulture is bringing on leading podcast network Earwolf as a new content partner to help develop a full two-day slate of live podcast programming throughout the festival.
"Earwolf has a track record of producing fan-favorite podcasts and popular live events," says Adam Sachs, CEO of Midroll Media, the parent company of Earwolf. "We work with nearly 300 of the world's top podcast hosts, and there is tremendous interest among them in meeting their listeners at live events. Earwolf is proud to partner with Vulture Festival in creating this world-class slate of programming."
Additional sponsors will be added in the months ahead, with updates and ticket announcements to be made at vulturefestival.com and @VultureFestival.
ABOUT NEW YORK MEDIA: New York Media is the parent company of the groundbreaking magazine New York; the up-to-the-minute news and service website nymag.com; the Grub Street food site; the entertainment and culture news site Vulture; the fashion and lifestyle site the Cut; Science of Us, a window into the latest science on human behavior; and New York Weddings and New York Design Hunting magazines.
ABOUT OUTFRONT MEDIA: OUTFRONT Media (NYSE: OUT), formerly CBS Outdoor, is one of the largest out-of-home media companies in the Americas and has a major presence in top markets throughout the United States, Canada, Mexico and South America. With billboard and transit properties, a prime asset focus, and a growing network of digital displays, OUTFRONT Media gives advertisers both breadth and depth of audience across key geographies, as well as engaging ways to connect with increasingly mobile consumers.
ABOUT CAROLINES ON BROADWAY: Founded in 1982 by Caroline Hirsch, Carolines on Broadway (COB) is established as one of the country's most renowned and popular comedy venues and one of New York City's leading destinations for live entertainment. COB first opened as a small cabaret in New York's Chelsea neighborhood before expanding when the club moved its location to the South Street Seaport and became the home of the A&E Network's award-winning series "Carolines Comedy Hour." Now a cornerstone of the city's vibrant Times Square district, COB is a firmly established leading brand in comedy, presenting comedy's biggest stars on the industry's most hallowed stage, seven days a week, 365 days a year. COB also founded and produces the annual New York Comedy Festival, the weeklong laugh fest. For more information on COB, visit www.carolines.com. Follow Carolines on Twitter at www.twitter.com/carolinesonbway and like the Carolines Official Facebook Page, www.facebook.com/carolinesonbroadway.
ABOUT EARWOLF: Earwolf is a leading podcast network devoted to creating the best, funniest and most thought-provoking content in the world. With a roster of 40 original shows, including "Comedy Bang Bang," "Question of the Day," "How Did This Get Made?" and "Longest Shortest Time," Earwolf is a destination for listeners seeking smart entertainment and information programming. Earwolf and its sister network Wolfpop are part of Midroll Media, which also represents the advertising sales for nearly 300 podcasts including "WTF with Marc Maron" and operates Howl, a premium subscription service available via apps for iOS and Android devices and at howl.fm. Midroll is a wholly owned subsidiary of The E.W. Scripps Company (NYSE: SSP).