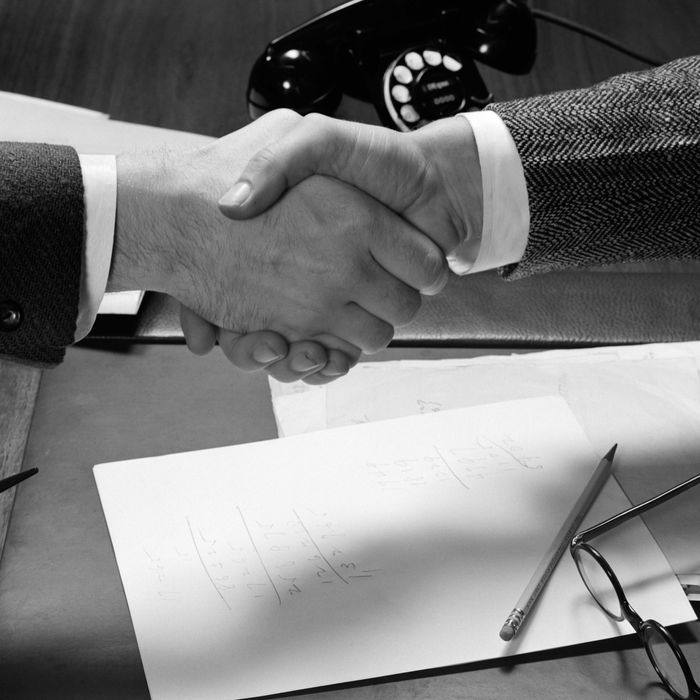 Photo: H. Armstrong Roberts/ClassicStock/Getty Images
The most important issue in digital advertising today is trust. Can clients and agencies trust their publishing and ad tech partners to deliver quality, human audiences? Can users trust publishers to present user experiences, including ads, that won't slow their browsers, drive up their data fees, or, even worse, deliver malware? Can publishers trust their buyers — client, agency, and network — to play their part in protecting those users' interests?
Today New York Media is announcing a series of new policies designed to improve the trust in all of these relationships, and continue to deliver the best experience for users and best results for our clients.
First, and most important, we are fully committed to working with our client and agency partners to deliver ads that are seen by actual human beings. In order to make good on that commitment, we are pleased to announce that we've joined with Moat as our third-party analytics and ad-verification partner. Moat is the industry leader in measuring ad viewability, human-versus-nonhuman traffic, and ad attention for both publishers and advertisers. In addition, we are offering a guarantee to our client partners of 100 percent human traffic. As Digital Content Next showed in its 2015 Bot Benchmark Report, buying from premium publishers like New York Media is the best way for advertisers to be certain that humans are viewing the ads they buy. Our 100 percent human pledge guarantees it.
Second, within the limits of current technology and standards, we are prepared to work with our advertisers and agencies to maximize viewable impressions. While 100 percent viewable is the goal, there are additional steps that must be taken, including rolling out mobile measurement at scale and the setting of industry standards for all of the various ad formats and site configurations in use today. Until then, New York Media will follow the best practices put forward by the Interactive Advertising Bureau and Media Rating Council for measurement of viewable impressions. Specifically, here is our policy on viewable impressions:
• NYM uses the MRC standard for measuring a viewable impression: 50 percent in view for one second for display, 50 percent in view for two seconds for video, and 30 percent in view for one second for large display units as defined by MRC.
• NYM commits to delivering no fewer than 70 percent of contracted impressions as viewable and 100 percent of contracted impressions as served for a campaign to be considered delivered in full. If fewer than 70 percent of impressions are viewable, then NYM will provide make-good viewable impressions for the difference.
• Standard paid rotational placements are included in viewable impression measurement. Since the IAB and MRC have not established viewability-measurement standards for nonstandard placements, like 100 percent share-of-voice takeovers, rotating roadblocks, sponsorship logos, video-companion ads, and native-ad promotional placements, those units will be measured based on served impressions, not viewable impressions. In addition, by their very nature, added value placements are excluded from viewable impression measurement.
There are still significant measurement variances between vendors, so New York Media's policy is to use Moat as the ad-verification vendor of choice. Moat is well established as a gold standard for this measurement — it is the only vendor currently accredited by MRC to measure mobile viewability, and the first vendor chosen by Facebook and Twitter for third-party ad verification. Nevertheless, we recognize that some agencies or clients may have other vendors they choose to work with, and will accommodate that request as long as it's agreed in advance that Moat measurement will be used for billing if there is a discrepancy of more than 10 percent between Moat viewable impressions and the other vendor.
Third, delivering the best, most viewable results for our ad clients is always a partnership with multiple players — buying agencies, creative agencies, ad-tech providers — all contributing to the success of a given campaign. As a publisher, New York Media can do our best to provide the "opportunity to view" a given ad. We deliver a quality, engaged audience and make sure our websites load quickly and that ads are placed to maximize the chance to view them, so that they only display when the user has scrolled to view the ad. But once we send the ad call to the server, it's up to our partners to deliver engaging ad experiences quickly and without multiple tracking pixels that slow down the display of those ads. Given that shared responsibility, New York Media is also introducing ad-latency requirements. Creative specs must meet IAB guidelines for file size and format, and any individual ad, including all tracking code, must fully load within 500 milliseconds of the ad request.
We believe these policies will go a long way toward building the trusted relationships that are the foundation of a successful digital ad business, and long-lasting partnerships with the advertisers who are so important to the success of New York Media's overall business.
Michael Silberman is general manager of digital media for New York Media, overseeing daily operations and strategy for all of the NYM digital properties.