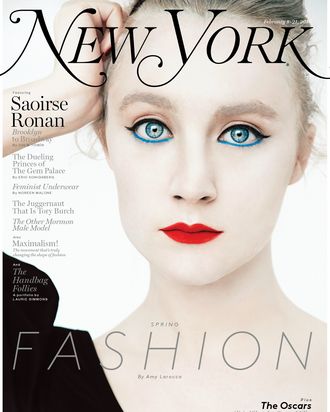 Saoirse Ronan on New York's February 8–21 issue cover.
"She invites envy, she lives in light, she loves glamour, but she also moves easily into the shadows," Brooklyn author Colm Tóibín writes of the twice-Oscar-nominated star Saoirse Ronan in New York Magazine's spring fashion issue.
"We were very much inspired by these fantastic, bold fashion illustrations by the great artist René Gruau," photography director Jody Quon says of the cover, citing the old, heightened fashion of the '40s and '50s. "We really wanted to zero in on the extraordinary intensity of her eyes."
On styling Ronan, the Cut's style director, Rebecca Ramsey, says: "We wanted to use bold color. It was such a fun season to show off graphic shapes. The funny thing about the Céline top on the cover is that, while it's a black top, it is so graphic against her pale skin, and the wide-set neckline allowed for so much expression of her face to come through." Ramsey says she also looked for opportunities to play up Ronan's face with accessories throughout the shoot, drawing on items like a red satin Marc Jacobs scarf, a Jil Sander hat, and a green lace Prada neck piece used as veiling on her head.