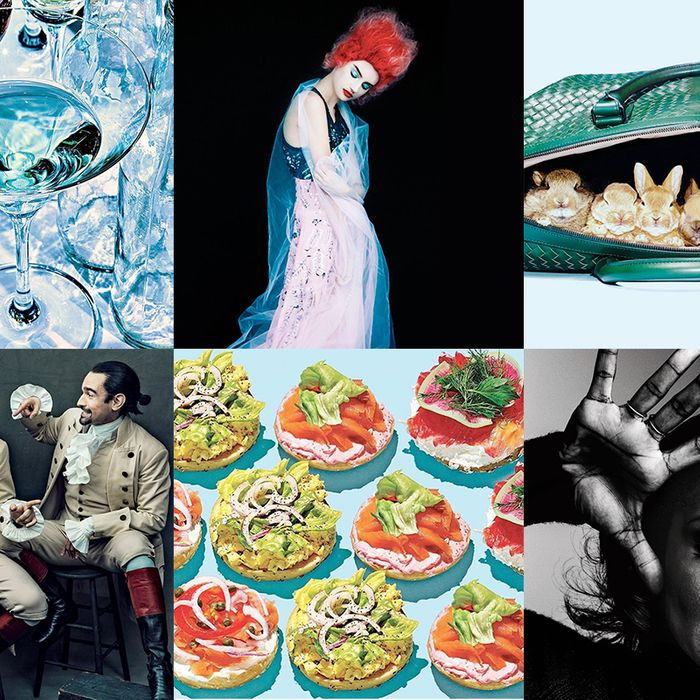 Over the last year, New York Magazine's social-media team has spent a lot of time thinking about platform-specific storytelling. We all love the intimacy of Instagram and saw potential there, given the highly visual nature of our magazine. So we decided to invest significant time and resources into growing our accounts and boosting our engagement levels, and we've already seen the payoff. @nymag has grown from 190,000 followers to more than 475,000 over the past year. We started meeting weekly with our photo department to discuss art from upcoming issues of the print magazine and online cover stories, as well as additional assets we might be able to use on Instagram. We launched a social-graphics Slack channel to coordinate the production of custom graphics. With the help of our dev and design teams, we created an in-house tool to allow our social-media editors to easily produce simple graphics optimized for social on the fly, with branded templates for each platform on which we have a presence. We're finding creative ways to give new life to photography from the magazine's deep archive. And we've started exploring Instagram takeovers, drawing on our edit and PR teams' extensive contacts to bring our Instagram followers exclusive content that they can't find on the site or our other social-media platforms. We've had significant growth on both @nymag and @thecut recently as a result of our focus on the platform, so we wanted to highlight some of our favorite projects from the last year.
Our most ambitious Instagram project to date is our "Audiogram" experiment tied to our Cosby: The Women issue. The package included dozens of stunning photos and several video interviews with some of the women who came forward with personal testimonies about Cosby. But we wanted to design an experience unique to Instagram, given a few different concerns.
"We expected high readership of the story, so we didn't want to replicate on Instagram exactly what readers could find on our website or the print magazine," says Lainna Fader, New York Magazine's engagement editor and manager of the social-media team. "We also didn't want to just cut our videos into 15-second clips and upload them. Given the sensitive nature of the project and Instagram's auto-play for video, we wanted to make sure people could opt into interacting with these stories. So we crafted a new kind of Instagram-specific piece of media that we coined Audiograms — a static image with a pullquote overlay, with 15 seconds of audio looped on top and a narrative story in the post caption, with the goal of engaging audiences through an audio-visual experience. New York Magazine social-media editor Nate Goldman and I listened to hours and hours of audio interviews, working closely with photo director Jody Quon and senior editor Noreen Malone to find the right pull quotes and audio clips for the Audiograms we made for @nymag and @thecut. We hoped that by allowing our readers to focus on the women's voices, the gravity of their stories would have a deep emotional impact."
As it turned out, a few hours after the 9 p.m. launch of our cover story, our site was DDoS'd, making the story unavailable. For the better part of a day, Instagram was the only place where you could hear these stories. Because of our thorough, distributed launch plan for the cover story, these women could not be silenced even when our website was knocked offline. (We also ended up reproducing the entire package sans video on our Tumblr.)

As with Cosby, the social team worked closely with the magazine's print, web, design, and video teams to adapt our "One Block" package to Instagram. "One Block" traced the radical transformation of a single street in Bed-Stuy — Macdonough Street, from Patchen Avenue to Malcolm X Boulevard — over a period of 135 years. The edit team interviewed dozens of current and former residents, and filmed those currently living on Macdonough Street in front of their homes. The online experience was designed to be immersive and interactive: "Go door to door, meet the neighbors, watch prices dip and soar, learn how historical forces shape a single street—and also, how to play skully." We wanted to capitalize on the multimedia available to us when translating the story to Instagram. We worked with our video team and the story's editors to pull short quotes and sound bites from interviews about the positive and negative changes to the neighborhood to layer on top of video of nine residents coming out of their front doors, making sure the series represented the range of experiences among residents of the block.
"This is just another example of how beneficial it is to coordinate with the print and web teams well in advance of a story being published to craft a thoughtful social treatment that supplements a story's larger narrative," says Goldman. "That kind of effort resulted in a mini-package that stands well on its own, while also adding to a reader's understanding of the project as a whole, should they be inspired to dive further in."

For Fashion Month, the Cut experimented with its own take on Audiograms. "Fashion Week coverage can feel very industry-focused, since it's essentially the world's most glamorous trade show," says Izzy Grinspan, a senior editor at the Cut. "So we were looking for a way to talk about how fashion affects our lives beyond what's happening on the runway." The Cut team interviewed a number of celebrities and fashion insiders, and homed in on one specific anecdote for each Fashion Feelings Audiogram. The Cut editors chose to use illustrations to make their content stand out among the flood of runway and street-style photos during Fashion Month. "Joana Avillez was a no-brainer as an illustrator because her style is so approachable and charming, much like the stories we were getting," says Grinspan. The final product had audio clips from the Cut's interviews looped on top of Avillez's illustrations, with the larger context explained in the Instagram post captions.

"My favorite thing about Fashion Feelings was, not only did our audience respond to it well, but the subjects themselves also commented on the Audiograms and re-shared Joana's illustrations," says Marissa Cetin, social-media editor for the Cut. "The project was a great mix of personality and creativity that suited Instagram and gave our growing audience something different in a month when runway and showroom shots dominate."

Because of the success we've had with @nymag and @thecut lately, we recently launched two new Instagram accounts: @vulture and @grubstreet. Vulture and Grub Street social-media editor Tara Abell manages @vulture on Instagram in collaboration with Vulture photo editor Maya Robinson. "Our main goal is to create a unique platform outside of what is presented on vulture.com," Tara says. "With a mix of exclusive photography, custom illustrations, and social-friendly GIFs, we hope to enrich the experience of readers who are already very familiar with our brand." Our community manager, Mia Leimkuhler, runs @grubstreet. "I aim to create a dynamic, exciting visual representation of Grub Street's food-news coverage using images from our staff and freelance photographers, as well as regramming posts from Grub's editors," she says. Leimkuhler has also helped coordinate our efforts with Instagram takeovers, both on @grubstreet and @nymag (our latest was Mario Batali with an inside look at the new breakfast service at La Sirena Ristorante), and works closely with Grub's photographers to share additional photography that doesn't appear on grubstreet.com.

We have more Instagram projects and takeovers in the works, so make sure you follow @nymag, @thecut, @vulture, and @grubstreet. And if you love Instagram as much as we do, we're hiring an editor specifically for @thecut.