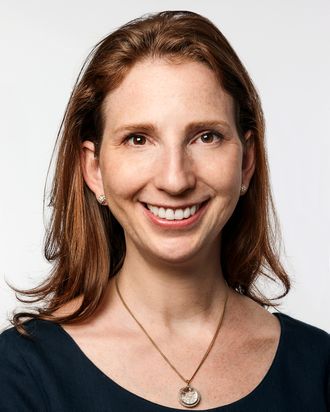 New York Media CEO Anup Bagaria announced today that Pamela Wasserstein is taking over as CEO of the company, which publishes New York Magazine and the digital properties nymag.com, Vulture, the Cut, Daily Intelligencer, Grub Street, and Science of Us. The change is effective May 2. Wasserstein has served in a day-to-day role at the company for the last year and a half as co-chair and head of strategy, and in her new role will oversee an ambitious expansion in several areas, drawing on her business and legal background in order to help grow the enterprise.
"In recent years it became clear that the company needed an in-house CEO, and we are fortunate to have someone uniquely positioned for the role in Pam Wasserstein," says Bagaria. "It has been an honor to serve as CEO since 2004, and I'm pleased to be leaving the company in such good hands."
"I'm thrilled that Pam has agreed to take the role of CEO," says editor-in-chief Adam Moss. "She is incredibly smart about the business, and has a strong vision for the company's future."
Working with Moss and publisher Larry Burstein, Wasserstein will oversee an evolution and amplification of the company's strategy of the last several years – deepening the relationship with the current audience, broadening to new audiences, and diversifying revenue streams. Among the company's key initiatives this year are a new branded content studio and video team, and a reinvention of the live events strategy, building on the success of existing events such as Vulture Festival.
Editorially, the company will tomorrow launch Select All, a new vertical exploring technology as an essential part of our lives, and looking at tech the way others look at entertainment, from the point of view of obsessive fans. This continues the strategy that developed Vulture and the Cut ― the creation of national verticals around readers' passions, in the smart, playful voice that is New York Magazine's hallmark.
Prior to joining New York Media full time, Pam worked at Tribeca Enterprises, most recently as vice-president, corporate development, spearheading new business initiatives, including the Tribeca Shortlist subscription video-on-demand film service. Before that she worked at Apollo Global Management, the private equity firm, where she evaluated potential investments and managed existing portfolio companies. She also worked for several years as a corporate lawyer at Wachtell, Lipton, Rosen & Katz LLP. She has also served as a trustee of the Wasserstein family entity that owns New York Magazine since its acquisition of the company in 2004 and as co-chair of New York Media since her father, Bruce Wasserstein, passed away in 2009. She is a graduate of Harvard College and Harvard Law School.