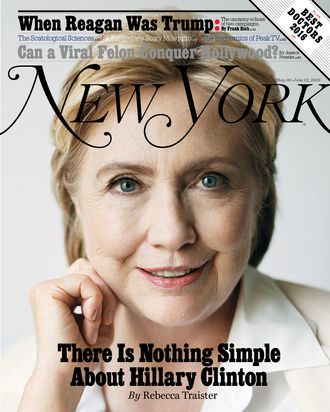 Hillary Clinton at her campaign headquarters in Brooklyn on May 12.
For the cover of New York Magazine's May 31–June 12, 2016, issue, photographer Brigitte Lacombe recreated her 2008 portrait of presidential candidate Hillary Clinton.
In the cover story by Rebecca Traister, Clinton talks about how America treats women's ambition, the possibility of running against Donald Trump, what she'd want to be prepared for after inauguration day, and more. Traister also looks at Clinton's fraught relationship with the press and her difficulties as a communicator, writing, "The conviction that I was in the presence of a capable, charming politician who inspires tremendous excitement would fade and in fact clash dramatically with the impressions I'd get as soon as I left her circle: of a campaign imperiled, a message muddled, unfavorables scarily high. To be near her is to feel like the campaign is in steady hands; to be at any distance is to fear for the fate of the republic."
For a look at how New York has covered Clinton over the years, going back to Joe Klein's 1992 cover story on Bill Clinton, check out the issue's "Reread" column.