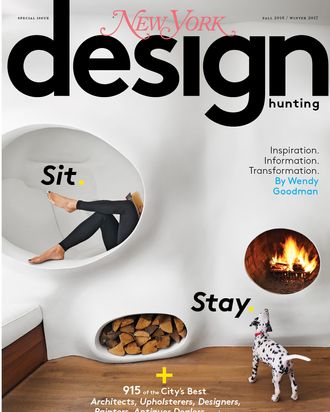 Clarina Bezzola's Gowanus house on New York's Fall 2016/Winter 2017 Design Hunting cover. /Photograph by Annie Schlechter
The Fall 2016/Winter 2017 issue of Design Hunting, New York Magazine's annual stand-alone home design magazine from design editor Wendy Goodman, hits newsstands today, and can be purchased online here.
The new issue features exclusive photographs of stunning homes, including artist Clarina Bezzola's sculptural wall that demands you climb in and stay (as seen on the above cover); tips on hiring a contractor, a craftsman, or a landscape designer from a panel of design insiders; discerning New Yorkers on their favorite table linens, art books, dry cleaners, and florists; a guide to help readers reimagine their own homes; and much more.