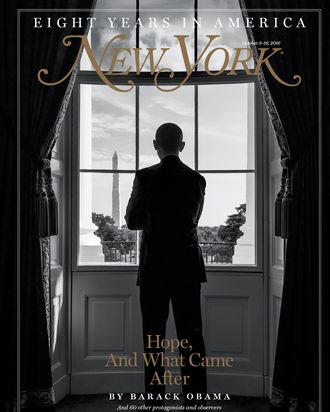 New York's October 3–16, 2016 issue. Photograph by Dan Winters.
Taking up nearly 70 pages in print and a multimedia timeline online, New York looks at the eight years of Barack Obama's presidency in a special issue. "As Jonathan Chait writes, President Obama has led this nation through a period of convulsive social transformation," says New York editor-in-chief Adam Moss. "This project attempts to document that change, with the help of many protagonists of all kinds — including the president himself, who sat down with Chait in August. Though it was meant as a kind of kaleidoscope, the issue actually has a pretty clear story line, with two forces battling one another for America's future since Obama's first day in office, and with a conclusion of sorts only five weeks away."
President Obama's first solo appearance on the cover of the magazine was for the April 23, 2007 issue, with a story by John Heilemann on how the then-presidential hopeful tapped a new breed of Manhattan donors for a record-smashing fund-raising campaign season. Obama had earlier appeared on the roof line of the October 2, 2006 issue, for Jennifer Senior's prescient feature "Dreaming of Obama."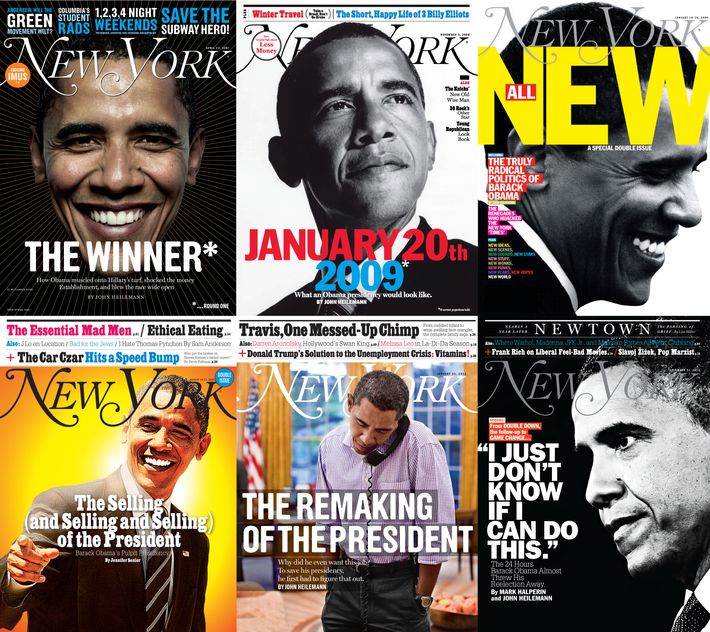 A decade earlier, he appeared in a Barnes & Noble ad in the magazine.