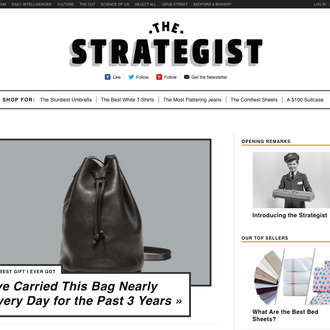 New York Magazine today launched the Strategist, a new site for helping people shop the internet, designed to surface the most useful expert recommendations for things to buy across the vast e-commerce landscape. Taking its name from New York's six-time National Magazine Award–winning print service section, the Strategist builds on the magazine's legacy of intelligent shopping coverage, with a striking digital design and seamless shopping experience through affiliate retailers. The launch follows about a month in beta mode and six-plus months of experimentation and optimization with various key e-commerce drivers, and will include the addition of a place on the nymag.com home page, Facebook and Twitter accounts, an email newsletter, and more.
"Our Strategist editors are first in their class at helping readers navigate life," says David Haskell, New York Media's editor for business and strategy. "In its digital form, the Strategist will apply its service journalism to online shopping — which has fast become where most of us buy most of our stuff — with extremely useful shopping advice."
Publishing three to four times daily, the Strategist runs passionate, trustworthy recommendations from staff writers and editors, freelance writers, and celebrities and tastemakers. Top categories have included beauty, fashion, kitchen/home, fitness/wellness, tech/gadgets, kids/baby, and books. Some of the top posts from the past month have included My French Friend Tipped Me Off to These Bed Sheets, Our Fashion Director Finally Found a Perfect Pair of Jeans, and 17 Cheap (But Expensive-Looking) Apartment Accents on Amazon. Top-selling products last month from the Strategist on Amazon, one of the primary affiliates, include Yoga Toes, Japanese face razors for women, and a wall ladder for keeping clothes organized.
The Strategist is New York's first vertical funded primarily through affiliate revenue rather than advertising revenue. Everything that runs on the site is endorsed and vetted by editors; if readers click through to purchase products, affiliate links often (but not always) provide a commission to the site.
The Strategist launches in time for the holiday-shopping season, and will center its holiday-gifts coverage on the Hard-to-Shop-Fors, featuring more than a dozen in-depth interviews with the people who are the most difficult to choose gifts for, from a fifth-grader to a grandma to a health-and-wellness obsessive to a food snob to a college freshman.