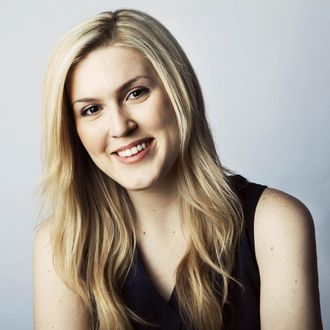 New York Magazine editor-in-chief Adam Moss announced today that Olivia Nuzzi (@olivianuzzi) is joining the magazine as Washington correspondent, covering the Trump administration and Congress. In this new position she will contribute to nymag.com's news and politics vertical Daily Intelligencer each week, in addition to writing features for the magazine. She starts on February 6.
"Olivia is a dogged reporter and stylish writer who distinguished herself covering the Trump campaign," says Moss. "For obvious reasons, we have come to feel it's important to have a reporter on the ground in D.C.; Olivia will bolster our coverage in significant ways."
Nuzzi got her start writing a political column for the Asbury Park alt-weekly Tri City News, covering Chris Christie and New Jersey politics. Since 2014 she has been a political reporter at the Daily Beast, covering Christie, Rand Paul, and Donald Trump, who she first interviewed about his Atlantic City casinos in 2014. Beginning in June 2015, she covered the Trump campaign, traveling the country and attending his rallies. She has also written for GQ, Esquire, Politico magazine, and the Washington Post.
Nuzzi joins a robust political team at New York, including daily columnists Jonathan Chait and Ed Kilgore; national affairs editor Gabriel Sherman; writers-at-large Frank Rich, Rembert Browne, and Rebecca Traister; contributing editor Andrew Sullivan; and Daily Intelligencer writers Margaret Hartmann and Eric Levitz.