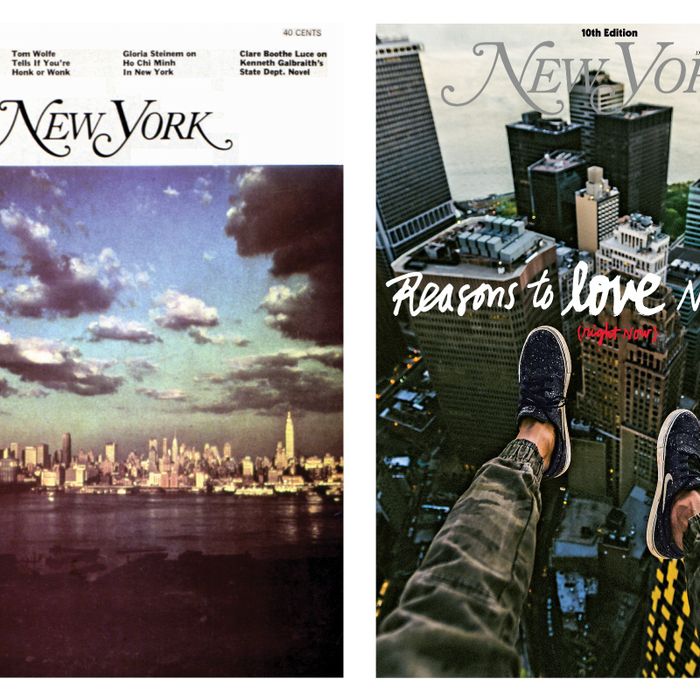 New York Magazine's first cover (April 8, 1968), and the 2014 Reasons to Love New York cover.
Photo: Jay Maisel; Humza Deas
New York Magazine, the trusted confidante of New York City's most knowing readers and an indispensable read for anyone who shares the New York City point of view, has signed a four-book deal with Simon & Schuster. The first book in the series will be published in November 2017, kicking off a yearlong celebration of New York's 50th anniversary. A visual history of the city as seen in the magazine's pages, the lavishly illustrated book will draw on the magazine's rich archives, with iconic covers, award-winning photography, and writing from some of the biggest names in journalism over the last 50 years. Divided into themes (Power, Families, Neighborhoods, and more), the book will include new material anchoring each section. The additional three books will be published at roughly yearly intervals following the anniversary volume.
"New York Magazine has produced some of the most exciting, vibrant, and memorable journalism of our time," said Jonathan Karp, president and publisher of Simon & Schuster. "Before there was such a thing as 'viral' stories, New York Magazine has started and defined the conversations we have about life in the city."
Pam Wasserstein, New York Media's CEO, said: "As we gear up to mark New York's 50th anniversary in a big way, we could not have found a better partner than Simon & Schuster to help us kick it off with a gorgeous retrospective. We are thrilled that this is the beginning of a larger program to translate New York's unique perspective and authority into books."
From its earliest days publishing renowned journalists and authors such as Tom Wolfe, Nora Ephron, Gail Sheehy, and Jimmy Breslin to its recent triumphs by Jonathan Chait, Rebecca Traister, and Gabriel Sherman, New York has been uniquely positioned to tell the story of New York City's return from the brink. Groundbreaking New York stories like "The Me Generation" contributed to the language; others became Saturday Night Fever and Taxi; other more recent stories — like the cover introducing dozens of Bill Cosby's accusers — have changed the national conversation. Text and visual selections from many of those, and hundreds of other great moments, will appear in the anniversary book.
World rights were acquired by Jofie Ferrari-Adler, executive editor at Simon & Schuster, through New York Media's literary representative David Kuhn of Aevitas Creative Management.
"As editors, we already publish on the magazine page and in the digital universe, but we still sometimes feel as if certain stories demand more reach," says David Haskell, New York Media's editor for business and strategy. "This partnership with Simon & Schuster allows us to launch big projects knowing that they might have a future in the sturdy and tactile medium of the big, ambitious book."