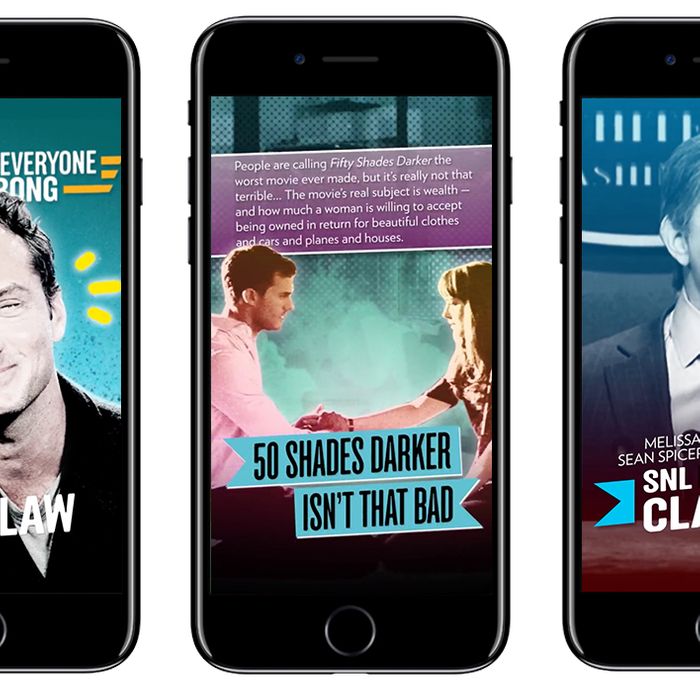 Vulture today announced its coming launch on Snapchat's Discover platform, expanding its unmatched entertainment coverage to a Discover channel with a weekly Publisher Story. Vulture's Discover digest will be a haven for the entertainment-obsessed, offering visually rich commentary, recommendations, and exclusive interviews with stars and creators from the worlds of TV, movies, music, and more. Vulture will tell Snapchatters everything they need to be part of the real-time entertainment conversation.
"Vulture's smart but playful take on the world of entertainment has a sense of fun that's a great fit with Snapchat Discover," says New York Media digital general manager Michael Silberman. "The platform brings Vulture to a new, growing audience, and offers us the chance to learn more about the stories that resonate with Snapchatters."
"Vulture is a really fun addition for Discover because it has a unique take on the latest in film, TV, and entertainment, and offers fans a strong and often hilarious perspective," said Nick Bell, vice-president of content for Snap, Inc.
Snapchat Discover features magazinelike content published by leading media companies, now called Publisher Stories. Each Publisher Story is exclusive to Snapchat, and offers Snapchatters informative and entertaining content from experts with strong editorial perspectives.
Vulture's content for Snapchat will draw from the site's unique editorial mix, trusted perspective, and knowing sense of humor, expanding and shape-shifting to take in the visual dynamics and interactivity of the platform. Vulture's story will be live in the U.S. in the coming weeks, and is New York Media's first entry into Snapchat Discover.