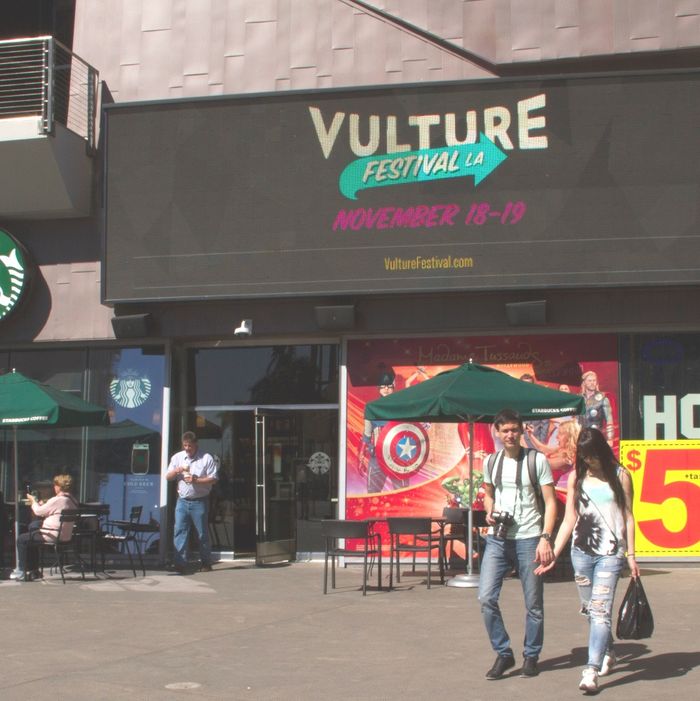 Vulture Festival billboard, courtesy OUTFRONT Media.
Vulture today announced that its entertainment extravaganza Vulture Festival is expanding to Los Angeles in 2017, with a weekend of pop-culture events set for November 18–19 at the iconic Hollywood Roosevelt. The fourth edition of Vulture Festival New York will take place May 20–21 at Milk Studios, with both celebrating the best of today's television, film, comedy, music, and more, over the course of a weekend-long series of high-profile events. The talent lineup for Vulture Festival New York will be announced in the spring, comprising roughly 40 events from panels to screenings to live podcast recordings. Past participants have included Jerry Seinfeld, Amy Poehler, Shonda Rhimes, Trevor Noah, Ethan Hawke, Solange, the Muppets, and many more.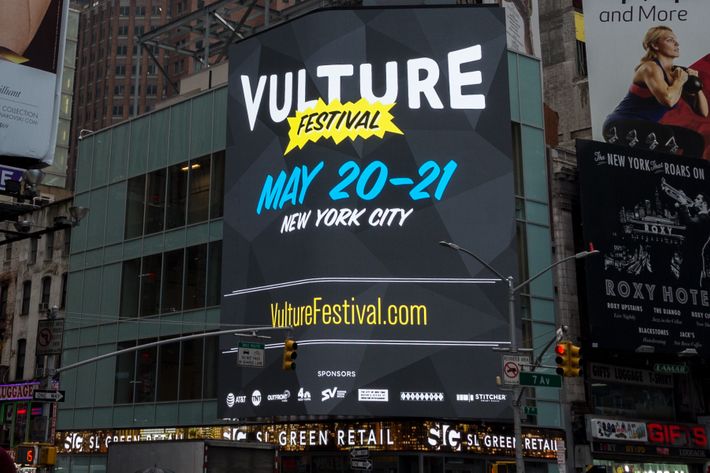 "As the Vulture Festival in New York continued to grow — in attendees, sponsor revenue, and celebrity participation — we saw the opportunity to make it bicoastal," says New York Media CEO Pam Wasserstein. "Vulture Festival Los Angeles strengthens the brand's commitment to serving the industry and our L.A. audience."
Sponsors for Vulture Festival New York include AT&T/DIRECTV, with a two-year commitment, and TNT, which will also sponsor Vulture Festival Los Angeles.
"We're delighted to return as a sponsor of Vulture Festival for two more years, and introduce Vulture's audience of passionate entertainment enthusiasts to DIRECTV Now, the new AT&T streaming service," said Hanny Patel, vice president, Video Marketing for AT&T. "We're also looking forward to presenting AT&T Audience Network and its critically acclaimed original content at the festival for a second year in a row."
Media sponsors and content partners for Vulture Festival New York include OUTFRONT Media, WNBC-TV, Screenvision Media, the Mayor's Office of Media & Entertainment, Carolines on Broadway, and Stitcher, which will serve as content partner for a full two-day slate of live podcast programming. This year's event will include an upgraded Vulture Lounge at Highline Stages, doubling in size to allow for increased traffic to accommodate festival growth. The Standard is the New York festival's official hotel partner, and Bridge Lane Wines its official wine sponsor.
Talent updates and ticket announcements to be made at vulturefestival.com and @VultureFestival.