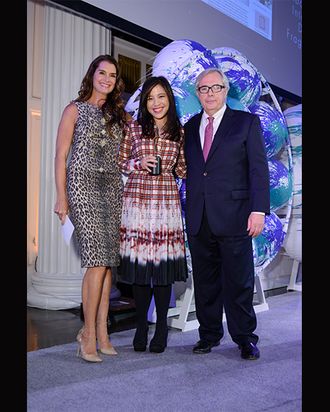 Brooke Shields, Kathleen Hou, Elizabeth Arden's Ron Rolleston
Photo: Casey Kelbaugh, Sean Zanni for Patrick McMullan/Getty and Griffin Lipson for Billy Farrell
Winners of the Fragrance Foundation Awards in Editorial Excellence were announced at a luncheon on Friday, April 7, 2017, hosted by Brooke Shields, and the Cut took home the award for Editorial Excellence in Fragrance Coverage Online — for a piece by beauty director Kathleen Hou, "Hermès's First Female Perfumer Talks About Breaking Into the Male-Dominated Fragrance World." In honor of her win, Press Room talked to Hou about her earliest scent memories, her approach to fragrance coverage, and what she was surprised to learn about the female perfumer she profiled.
What's your earliest scent memory?
I used to spend my childhood summers in Taiwan, specifically in Tainan, a small city where my parents are from. I remember the sweltering, humid summers, and walking on the street to art or swimming classes with my mom. Street vendors sell these homemade, natural air fresheners made of a white flower called yulan (I think it's similar to a magnolia flower in English), and my mom would buy them on the way home. It's a sweet, fragrant smell — like a combination of a gardenia and Tahitian monoi flowers, which you also often smell in the temples in Taiwan. I've never smelled them anywhere else (or even in a perfume!) but that smell, combined with the warm air, reminds me of being a kid.
How do you incorporate fragrance into your daily life?
Is it weird to say I don't? I'm always getting sent amazing perfume creations or great-smelling beauty products, so I don't often wear scents day to day because I don't want them to clash with what I'm testing out. But if it's for a special occasion or a night out (I wear scents to drinks, not dinner), I like to spray a scent and walk into the mist a few times, and do the neck and hair. I learned about misting the hair (maybe to the chagrin of my colorist, Aura Friedman) from the girls at Pinrose.
Do you have a signature scent?
I love Narciso Rodriguez's For Her eau de toilette, but one of my friends started wearing it, too, so I don't know if I can consider it to be my signature anymore. I normally don't like celebrity scents, but I love Lovely by Sarah Jessica Parker, which smells like fresh laundry, lavender, and pink ballet shoes to me — it's a very soothing scent. My mom wears it, too. I consider it to be my mom fragrance. I also love Kai because the yummy, tropical white-flower blend is the closest I've found to yulan flowers. And Tom Ford's Neroli Portofino smells like sun and blue ocean water.
What makes the Cut's approach to fragrance coverage different?
We love covering fragrance at the Cut, but scent is really hard to write about! It's not visible; it's completely ephemeral. I might say something smells "musky," but how can I know that what I describe as musky is actually musky? Musk might have an entirely different meaning to someone else; I don't know if your musk is the same as my musk. It's like, how do you know everyone is seeing the same shade of blue in the sky that you see?
A scent is normally described by its top notes, like, "it has an opening of …" or, "a heart of …" But who knows what a scent smells like by describing its notes? So with that in mind, we're often more drawn to the stories behind perfumes, and trying to understand and learn more about the creation process. With all the gazillion scents that exist in the world, why did the perfumer want to make this particular scent? Why did they decide this was the right one, and reject the hundred others they made before? We might not all be smelling the same musk, but we can understand a perfumer's story about wanting to create a scent that smells like a French rose garden during the day, for example — even if in your imagination, your garden smells different from what my garden might smell like.
Or when it comes to perfume reviews, we want it to be voice-y. Why do they like this particular scent? What memories or visuals does it inspire when wearing it? How would it make someone feel? I loved Chandler Burr's perfume reviews for the New York Times and his books about perfume, so that was an inspiration.
What were you surprised to learn about Christine Nagel in your winning article on her work at Hermès?
I never thought about perfume being a male-dominated world. I'd read dozens of her previous interviews before I met her and knew her biography, but didn't know that she faced such challenges when starting out in the perfume world, which is very old-school in many ways. But it was incredible to hear her story, and to also hear about the wonderful mentors she had in the past, both male and female. She was so humble and generous with her time, so I'm really thankful to her and the Hermès team for allowing me to tell part of her story.
Also, to hear that her least-favorite scent is vomit. I guess everyone hates that smell, even perfumers who think that there is no such thing as a "bad" scent.