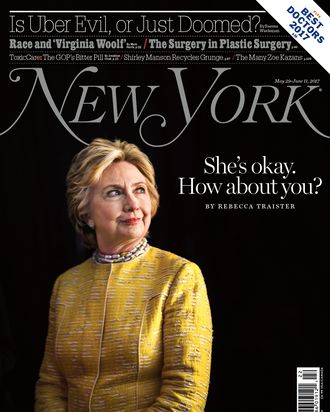 New York magazine's May 29-June 11, 2017 issue cover. Photo by Lynsey Addario/New York magazine.
For New York Magazine's May 29–June 11, 2017, cover story, Hillary Clinton talks to writer-at-large Rebecca Traister in Clinton's first major profile since her defeat, discussing the "crushing, devastating blow" of the election, the lessons to be learned from her loss, James Comey, WikiLeaks, the Times, the resistance, and more.
Traister, who has been covering Clinton since her 2008 campaign, says about interviewing her for this issue: "I have always felt that we were living through — and I was getting to write about — a really important chapter in American history. Hillary Clinton is such a crucial, complicated figure, whose life has bridged these very different eras in America." Traister believes that a century from now, "we will look back on her role in American politics and understand her as a transformative figure. I feel very lucky that a big part of my job for the past ten years has been trying to tell a story about her and what she's meant to the country she wanted to lead."
Clinton was photographed for the cover by Lynsey Addario, backstage at a speech in May.