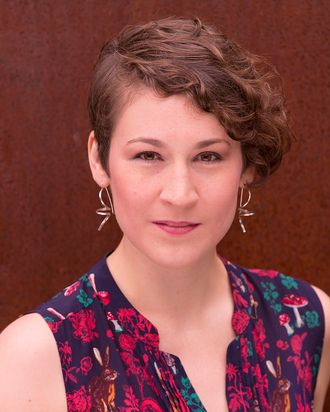 Sara Holdren.
Photo: T Charles Erickson/© T Charles Erickson
New York Magazine editor-in-chief Adam Moss announced today that Sara Holdren (@swholdren) is joining New York and its entertainment site Vulture as theater critic. Holdren is an accomplished director and theater-maker who will bring an original perspective to the role of critic. She will write reviews as well as more essayistic pieces, and begins her role July 31.
"We were looking for a fresh, exciting voice, and we found her," says Moss. "Sara never imagined herself a critic, but she has the makings of a great one. She comes at theater criticism from an unusual background and perspective, which will be helpful, but she also happens to be a wonderful critical writer — vivid, wry, interesting, impassioned. We're excited to welcome her to the dialogue."
Holdren has worked as a freelance theater director based in New York City, and is the artistic director and co-founder of the theater company Tiltyard. Recent projects include MIDSUMMER (which she co-adapted from the play by William Shakespeare) with Tiltyard, Deer and the Lovers by Emily Zemba, The Zero Scenario by Ryan Campbell, and The Master and Margarita, adapted by Edward Kemp from the novel by Mikhail Bulgakov. She holds a B.A. in theater from Yale University and an M.F.A. in directing from Yale School of Drama, and was a 2016 Drama League Fellow.
"I am thrilled to set out with New York Magazine upon this new path in my life as a maker, viewer, and lover of theater," says Holdren. "I have thrown myself into the glorious tumult of playmaking from almost every angle — director, actor, designer, producer, technical staff, usher, student, teacher, audience member — and I am keenly aware of the honor and responsibility of adding 'critic' to this list."