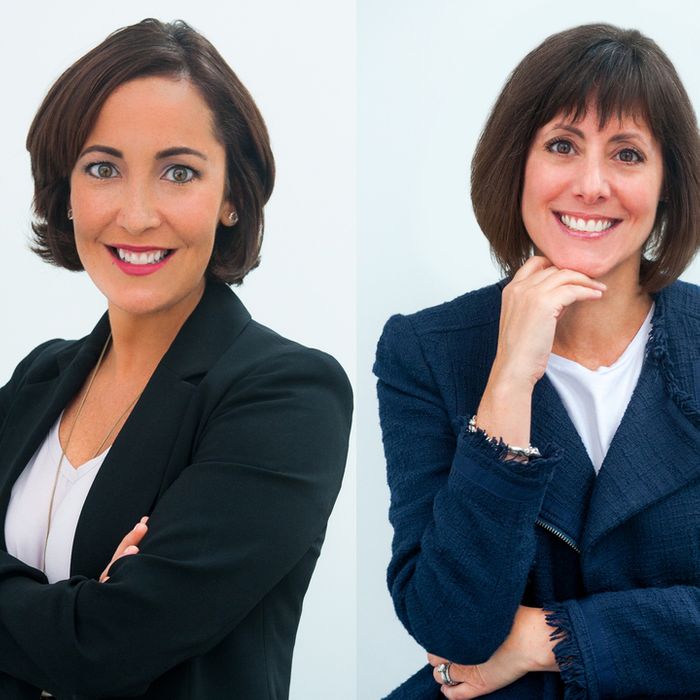 Kate Solinsky and Jacqueline Cinguina
Photo: Freddy_Mejia
New York Media CRO and publisher Avi Zimak announced today that Jacqueline Cinguina and Kate Solinsky have joined the company as head of sales marketing and head of sales respectively, working across the company's suite of brands, which include New York Magazine, Vulture, the Cut, Grub Street, Science of Us, Select All, and the Strategist. In these two new roles, Cinguina and Solinsky will work closely with Zimak, who joined the company in March, to grow revenue, provide the most innovative offerings to advertisers, and enable best-in-class client capabilities. Cinguina and Solinsky have a wealth of experience at top media and tech companies and ad agencies, working with marquee brands.
"Jackie and Kate are dynamic leaders who bring big ideas, strong industry relationships, and tactical expertise to our team at New York Media," says Zimak. "I had the pleasure of working with Kate at Outbrain, and Jackie's reputation in the business is first rate. With major initiatives on the horizon, including a redesign of the Cut and New York Magazine's 50th anniversary, we are thrilled to bring their fresh thinking to bear for our brand partners."
As head of sales marketing, Cinguina will oversee New York Media's brand content studio, as well as integrated marketing, research, ad-sponsored events, and creative-services functions. She began this role July 31. For the past two years she has worked as an independent marketing consultant, helping clients such as National Geographic, CityLab, and DuJour Media with branding initiatives, industry positioning, digital strategy, long-term partnerships, and audience development. Prior to that she work at Condé Nast Media Group as senior executive director of marketing solutions, overseeing the team responsible for cross-brand, cross-platform program development. While at CNMG she was instrumental in the development of the business model, pitch, and back-end process for 23 Stories by Condé Nast, a new branded-content practice. Before that she worked as executive director of integrated marketing at The New Yorker, and earlier spent 13 years at Mindshare/Ogilvy & Mather, advancing to Senior Partner, Group Planning Director, during a time of explosive change within the media industry. She became an early advocate of digital and data-driven tactics on behalf of clients.
As head of sales, Solinsky will oversee the company's sales and client-services teams, and will focus on growing relationships with new and existing clients as well as ad agencies. She began this role August 7. Kate joins from Outbrain, where she was most recently the head of agency sales, focused exclusively on driving sales and building strategic brand partnerships for all agencies under the "Big Five" as well as independent agencies. She has also held key sales roles at Time Inc.'s Fortune magazine and Wenner Media's Us Weekly.