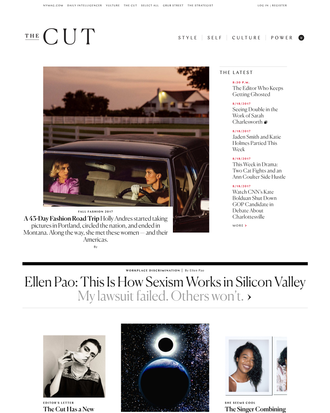 The Cut, the premier destination for women with stylish minds, today unveiled a mobile-first redesign, including a new logo and identity, along with new site sections to better reflect the breadth of topics covered by the Cut. The redesigned site is organized around the themes Style, Self, Culture, and Power, highlighting the Cut's best-in-class fashion and beauty coverage, while bringing new prominence to coverage of feminism and politics, wellness and fitness, work and career, parenting, and culture. In the five years since the Cut launched as a stand-alone site, it has continued to expand far beyond its roots as a fashion blog, as president and editor-in-chief Stella Bugbee notes in an editor's letter introducing the new site: "We felt it was time for the Cut to reflect how much we've grown along with all the conversations around us."
With the majority of the Cut's readers enjoying the site on mobile, the redesign prioritized the smartphone experience, with more white space and an emphasis on discovery for the home page, conceived as a billboard for what the site values and a canvas for our advertising clients.
The new site categories were arrived at after sorting through hundreds of headlines and finding that Style, Self, Culture, and Power achieved a balance among what the Cut was covering, and provided a framework for getting at what it means to be a woman moving around in the world today. Style is broadly defined, to include fashion, with the Cut's incomparable critic-at-large Cathy Horyn, beauty, and shopping, as well as home design and an expanded weddings section, all with gorgeous original photography. Self includes mental and physical health, parenting, horoscopes, and advice columns from Heather Havrilesky (Ask Polly) and Lori Gottlieb (What Your Therapist Really Thinks); later this fall sister site Science of Us will begin publishing on this section of the Cut. Culture will encompass celebrities, movies, TV, music, and books, with a Reading Women column launching this week that asks writers like Brit Bennett and Angela Flournoy to talk about their favorite books by women authors. Power will be the home for coverage of politics, feminism, work, money, and issues relating to equality, with writers including Rebecca Traister, Lisa Miller, and Ann Friedman, who this week launches a new column Feminisms Now, a series of in-depth conversations with some of the most thoughtful and provocative women in the world.
The new Cut will also feature video series such as A Perfect Fit, with the Cut's market editors offering advice on common fashion dilemmas, launching on Facebook's new Watch platform. New brand-integration opportunities will be a key feature of the redesign, including revamped branded content to be more in line with the voice of the site, and new high-impact ads for the mobile homepage. Saks Fifth Avenue and Cartier are among the redesign-launch partners.
"As fashion, beauty, and luxury brands become more sophisticated in their marketing, a women's site that goes beyond the typical coverage areas is a welcome addition," says Avi Zimak, New York Media's CRO and publisher. "The redesigned Cut provides a sleek, stylish, and user-friendly environment for readers and advertisers, with the smart, funny voice that is the hallmark of all our brands woven throughout."
To celebrate the redesign on social media, a series of videos will allow Instagram users to watch the new Cut's mission statement interpreted through the voices of women across different fields. These short conversations discussing "what women are made of" will unfold throughout the day Monday, and participants include Rachel Comey, Diane von Furstenberg, Jenn Im, Mari Andrew, the National Women's Soccer League, and Dawn Lyen-Gardner.
As Bugbee writes in her editor's letter, "I've been thinking of this redesign as a twist on the old adage, 'Dress for the job you want.' In our case we are now dressing for the job we have: Showing the world what women are made of."