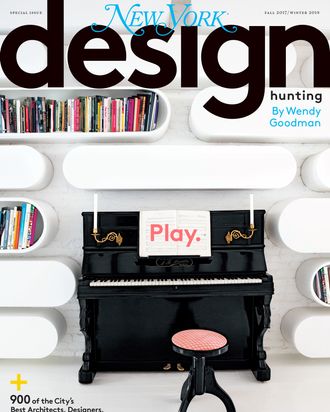 On the cover: In Virginie Sommet and Christian Frederick's house in Bedford-Stuyvestant; Photograph: Floto+Warner/New York Magazine.
The fall 2017/winter 2018 issue of Design Hunting, New York Magazine's annual stand-alone home design magazine from design editor Wendy Goodman, is on newsstands this week and can be purchased online here.
The new issue features exclusive photographs of stunning homes, including Virginie Sommet and Christian Frederick's fantasyland in Bed-Stuy, Billy Cotton's modern renovation of a classic Brooklyn brownstone; tips on renovation and décor from professionals in different disciplines across the industry; discerning New Yorkers such as Amy Sedaris and Jill Kargman on their favorite things, from tableware to bed linens; and much more.