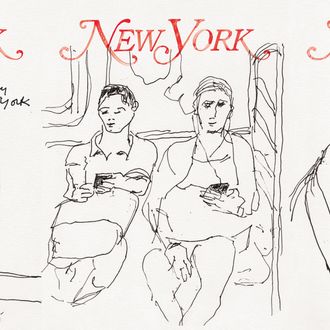 New York Magazine's 50th anniversary issue cover / Drawings by Alex Katz, Courtesy of Timothy Taylor Gallery
Everyone builds their own New York, and New York Magazine's 50th anniversary issue, "My New York," explores the many cities contained within the one shared by all, including a 50-person daisy chain of quintessentially New York relationships connecting Pat Kiernan to Jeremy Lin to Robin Byrd, and more; notable New Yorkers including Mikhail Baryshnikov, David Dinkins, Lena Dunham, Larry Gagosian, Toni Morrison, Eliot Spitzer, and more, share their memories about the city they've called home; a bartender, a priest, and a psychic on the confessions they can't forget; Whoopi Goldberg, Martha Stewart, and Matthew Broderick go back to their first New York City apartments and meet the people currently living in them; a taxi driver on the people he met behind the wheel; writers Mary Gaitskill, Eileen Myles, and more, on the strangers who stuck with them; a love map detailing the bars, street corners, and stoops where New Yorkers kissed, got naked, and did things they would someday regret; and more.
The cover of the issue features drawings of people on the New York City subway, by artist Alex Katz. "Alex Katz made drawings of people on the subway in the 1940s when he was a student on his way to Cooper Union," says New York Magazine photography director Jody Quon. "We wanted to see if he would revisit the experience of doing the subway drawings." Katz, who just turned 90, agreed to revisit the project for the first time since the '40s. On Monday, October 9, Katz took the C uptown and the B back downtown. "In his drawings from the '40s, a lot of people are reading books or magazines, whereas now they're almost all on their phones," adds Quon.
Katz tells New York Magazine senior editor Christopher Bonanos that as a student at Cooper Union, he found he couldn't finish the drawings he was required to make before class ended. "I was desperate to learn to draw more quickly. I started drawing on the subways, at lunches, at bars, at jazz concerts, coming home late from dates," he says. Katz adds that New Yorkers, as he sees them, still act like their predecessors of 70 years ago, and that the seating arrangements on the older trains made for better sketching.
The anniversary issue kicks off a year-long celebration, under the umbrella theme of "My New York," that will include the publication next month of Highbrow, Lowbrow, Brilliant, Despicable: 50 Years of New York Magazine, a massive, joyous, visually stunning book about New York City, told through the eyes of New York Magazine.