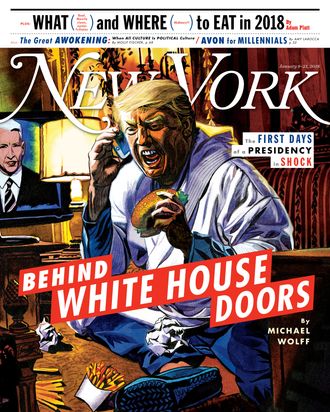 New York's January 8-21, 2018 cover
Illustration: Jeffrey Smith for New York Magazine
Since it was published online this past Wednesday, New York's explosive cover story adaptation of Michael Wolff's new book, Fire and Fury: Inside the Trump White House, has drawn more than 4.5 million readers (on and off-network) and "spawned a thousand headlines," in the words of Apple News. Readers spent four times the average engaged time on our site with the piece, which had been planned for online publication ahead of the print magazine, though the timetable was moved up as news from the book began to leak. Wolff is no stranger to New York, having served as media columnist from 1997 to 2004 and winning two National Magazine Awards.
The illustrations accompanying the story, and the cover for the January 8–21, 2018 issue, were done by Jeffrey Smith.
New York design director Tom Alberty says that the magazine wanted to re-create the scenes in the excerpt, and one of Smith's specialties is painting dramatic scenes for long-form journalism. "He has a fantastic eye for composition, like he's creating a movie scene," says Alberty.
*Read a Q&A with Jeffrey Smith on how he created the illustrations at Bleeding Cool.