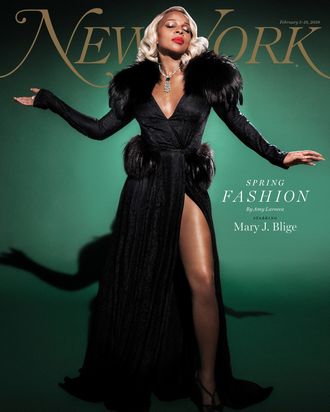 Mary J. Blige on the cover of
New York
's 2018 Spring Fashion issue.
Photo: Radka Leitmeritz
Mary J. Blige, the "Queen of Hip-Hop Soul" up for two Academy Awards for Mudbound, is the star of New York's Spring Fashion cover in a Quentin Veron gown. In a profile by editor-at-large Carl Swanson, Blige talks about the style she created with her first producer, the then-19-year-old Sean "Puffy" Combs: "What I loved about Puff is he immediately saw — I mean, instead of a tight dress, he put a baggy Armani suit on me with some Teflon boots. I wore a miniskirt sometimes, a pleated miniskirt, but I wore boots with it. But I hated skirts, I hated dresses, because I sit like this" — she leaned forward in the interview, elbows on knees, legs spread. "I can't sit like that with a miniskirt on."
Blige says that her tomboy look was also about "survival." "I worked with a lot of men and grew up around a lot of men. I didn't want them to look at me like that," she tells Swanson.
Eventually her look evolved to become more glamorous: "It took me a long time. I didn't want to wear lipstick and all this stuff," she says. "I'd fight not to wear these little shorts [in videos], and I'd end up wearing them and the video would be great. And you'd be like, Okay, that's not bad, and you start to grow."
New York Magazine's fashion editor-at-large Amy Larocca says, "We are so thrilled to have Mary J. Blige on our spring fashion cover. Her astonishing accomplishments — two Oscar nominations this year! —combine with her bravery and honesty to make her both compelling, and glamorous. Radka's photographs and Carl's story offer us a new way of looking at this icon at an incredibly exciting moment in her life and career."