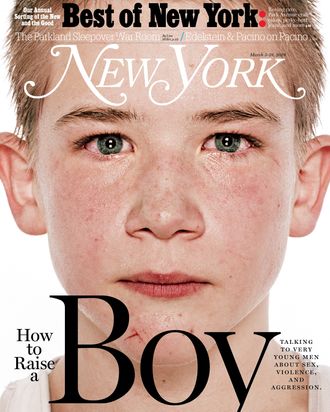 Photo Credit: Nicolai Howalt/New York Magazine
New York Magazine's cover for the March 5–18, 2018 issue is a package of stories attempting 29 answers to an impossible question, that has only grown more impossible and more urgent following the Parkland shooting, the president, and #MeToo. How to Raise a Boy includes Will Leitch reflecting on when you don't know what to think about what your dad taught you; Stella Bugbee on when he won't talk to you; Lauren Slater on when he finally yells at you; Alden Jones on when he loves guns; Lisa Chase on when his father dies; Rachael Combe on when he gets violent; Laurie Abraham on when you were raised another way; Craig Jenkins on when Kendrick Lamar gives him a voice; Peggy Orenstein on when he's been the victim; and many more.
The cover image was shot by Danish photographer Nicolai Howalt, as part of a series of images of boys ages 11 to 17 before and after their first boxing match. The series, which was inspired by Howalt's own experience as a boy, captures the transition from childhood to manhood. "We wanted an image that showed the tension of being a boy, and this series really spoke to that," says New York Magazine photography editor Marvin Orellana.
In selecting an image from the series for the cover of the issue, photography director Jody Quon says they were struck by the cover subject's expression. "You couldn't tell if he was upset or angry," says Quon. "There was a real complexity in his expression. He was emitting a real emotion."