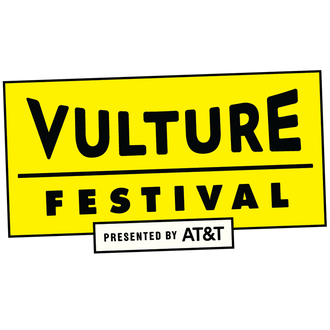 Vulture today announced the lineup for Vulture Festival, a weekend of high-profile events bringing the entertainment site to life, celebrating the best of today's television, comedy, film, podcasts, and more. The pop-culture extravaganza, taking place May 19–20 at Milk Studios in New York City, includes panels, screenings, performances, and live podcast recordings. Additional events will be announced in the coming weeks.
The initial lineup for the two-day live showcase, curated by Vulture's editors, includes these events:
MAGGIE GYLLENHAAL IN FIVE ACTS. Oscar- and Emmy-nominated actress Maggie Gyllenhaal makes her Vulture Festival debut in this in-depth conversation about five of her most acclaimed film and TV projects, including her Golden Globe–winning turn in SundanceTV's The Honorable Woman and current starring role in HBO's The Deuce, on which she also serves as a producer.
JOHN LEGUIZAMO: IN CONVERSATION. Multi-hyphenate artist of stage, film, and television John Leguizamo joins Vulture Festival for the first time to chat about his new graphic novel Freak, his latest theater production Latin History for Morons, his diverse film career, and his general New York–y awesomeness.
Panel to be followed by a book signing.
IN CONVERSATION WITH SAMANTHA BEE, THE FULL FRONTAL TEAM, AND REBECCA TRAISTER. The hilarious Samantha Bee — along with Full Frontal's Melinda Taub, Ashley Nicole Black, Allana Harkin, Mike Rubens and Amy Hoggart — in conversation with New York writer-at-large Rebecca Traister.
AVA DUVERNAY AND THE CAST OF QUEEN SUGAR. Oscar-nominated director and executive producer Ava DuVernay returns to Vulture Festival with OWN's Queen Sugar, also featuring cast members Rutina Wesley, Dawn-Lyen Gardner, and Kofi Siriboe. 
A KID LIKE JAKE's CLAIRE DANES AND JIM PARSONS. Actors Claire Danes and Jim Parsons, director Silas Howard, and writer Daniel Pearle join the festival to discuss IFC's upcoming critically acclaimed, Sundance-selected feature, A Kid Like Jake.
TRACY MORGAN: IN HILARIOUS CONVERSATION. There is only one Tracy Morgan and he'll be at Vulture Festival to discuss his new hit TBS comedy The Last O.G. and his return to comedy.
THE WORLD PREMIERE OF AMC'S DIETLAND. Be the first to see executive producer Marti Noxon's latest series Dietland (based on Sarai Walker's book of the same name), then stick around for a juicy conversation with Noxon and cast members Julianna Margulies and Joy Nash.
THE GORGEOUS LADIES OF NETFLIX'S GLOW. Cast members Alison Brie and Sydelle Noel join series creators Liz Flahive and Carly Mensch to discuss the art of the body slam and just exactly how they made TV's most badass new comedy.
DISH WITH THE CAST OF STARZ'S SWEETBITTER. How do you adapt an audacious debut novel about finding yourself in New York circa 2006 restaurant industry into a half-hour drama without losing an ounce of its biting charm? Sweetbitter author and executive producer Stephanie Danler joins cast members Ella Purnell and others to discuss one of television's hottest new series about the life that happens to you while you're waiting.
AMBER TAMBLYN AND ROXANE GAY HOST FEMINIST AF. Amber Tamblyn and Roxane Gay are bringing back their Vulture Festival staple reading series, Feminist AF, for another afternoon showcasing the most daring voices in feminist writing today.
DRAG RACE: TEN SEASONS LATER AND TAKING OVER THE MOTHER TUCKING WORLD. Gurl! RuPaul's Drag Race fan favorite queens are spilling the tea. Revisit moments from 10 seasons that totally slayed, learn how to perfect your death drop and more.
FIX THIS: IT'S RAY DONOVAN. Emmy-nominated star of the Showtime hit drama Liev Schreiber and showrunner, executive producer, and director David Hollander make their Vulture Festival debut to discuss the series's bold move from L.A. to New York for its upcoming sixth season.
CRIMETOWN LIVE. Marc Smerling and Zac Stuart-Pontier will indulge Vulture Festival with a live recording of their hit Crimetown podcast, which chronicles the history of organized crime in a particular American city.
WILD HORSES LIVE. Longform improv troupe and best friends Wild Horses — Lauren Lapkus, Stephanie Allynne, Erin Whitehead, and Mary Holland — in their beloved show, The Perspective, have a fun and intimate chat with a special celebrity guest and then base an improv set on the conversation.
LAS CULTURISTAS LIVE! Comedians and beloved Vulture recappers of Rupaul's Drag Race Matt Rogers and Bowen Yang are creating a special live spectacular version of their podcast, Las Culturistas, featuring an interview with a special celebrity guest, I Don't Think So, Honey: The Gameshow, and more, so much more.
ADAM PALLY AND RACHEL BLOOM. Stars of Lionsgate's upcoming (dark, really dark) comedy Most Likely to Murder Adam Pally and Rachel Bloom revisit their improv-comedy roots. A lot of inappropriateness will ensue.
GETTING OLDER WITH YOUNGER. The age-defying cast of Younger — Sutton Foster, Hilary Duff, Debi Mazar, Miriam Shor, Nico Tortorella, Molly Bernard and Charles Michael Davis — and the show's creator Darren Star deep-dive into the tangled web of lies, love, and friendship.
STAR TREK DISCOVERY: THE FUTURE IS DEFINITELY FEMALE. Join Star Trek Discovery cast members Sonequa Martin-Green, Mary Chieffo, Mary Wiseman, Michelle Yeoh, and executive producer Gretchen J. Berg as they reveal the secrets to their distinctly female-forward mission on their CBS All Access series, Star Trek: Discovery.
BOOZY BRUNCH WITH YOUR BEST FRIENDS PHOEBE ROBINSON, GILLIAN JACOBS, AND VANESSA BAYER. We won't judge if you double-fist mimosas during this chat with the stars of the upcoming Netflix film Ibiza — Gillian Jacobs, Vanessa Bayer, and Phoebe Robinson. Join the cast for brunch while they talk about their new movie and the lengths that friends will go to support one another, even when it includes - against your better judgment - ditching work to fly to Ibiza all to follow a hot DJ. Moderated by comedian and host of Late Night Whenever podcast Michelle Buteau.
GETTING CURIOUS WITH JONATHAN VAN NESS LIVE. What's currently piquing the interest of Queer Eye star Jonathan Van Ness on his podcast? You'll soon find out — at Vulture Festival!
BO BURNHAM GUESTS ON GOOD ONE PODCAST LIVE. In a live episode of Vulture's signature comedy podcast, Good One, Bo Burnham and host/Vulture senior editor Jesse David Fox will use one of Burnham's best jokes as a way to examine Burnham's evolution from a YouTube comedy wunderkind to director of Chris Rock most recent stand-up to writing and directing the critically acclaimed, Sundance breakout Eighth Grade.
REVISITING S-TOWN. A year after the S-Town podcast captured the nation with its deep dive into one man's life, Julie Snyder and Brian Reed will look back on the overnight phenomenon.
ONE BOOK, ONE NEW YORK. Which of the five titles — If Beale Street Could Talk by James Baldwin, Manhattan Beach by Jennifer Egan, White Tears by Hari Kunzru, Behold the Dreamers by Imbolo Mbue, When I Was Puerto Rican by Esmeralda Santiago — will reign supreme when our citywide book-voting contest with the Mayor's Office of Media and Entertainment comes to an end? Well, that's a secret you'll just have to wait and find out — but we can say the winning author will be with us, and in the case of Beale Street, director Barry Jenkins, who is making a film of the book.
THROWING SHADE LIVE. Since there's never a bad time to throw some well-deserved shade at people, places, or things, Erin Gibson and Bryan Safi are bringing their popular political comedy podcast Throwing Shade to Vulture Festival for a little ruckus.
QUEERY LIVE. Comedian Cameron Esposito brings her LGBTQ+ interview podcast to Vulture Festival, where she'll sit down with a special guest from the community and explore stories of identity, personality, and the shifting cultural matrix around gender, sexuality, and civil rights.
DR. GAMESHOW LIVE. Jo Firestone and Manolo Moreno are bringing their cult-favorite Dr. Gameshow podcast to Vulture Festival, where audience members will compete playing listener-submitted games to win a special prize!
Tickets, primarily in the $25–30 range, will go on sale to the general public on April 18 at vulturefestival.com, and will include access to the Vulture Lounge, featuring complimentary drinks and festival activations. A limited quantity of all-access Vulture Passes will be available for $400 (excluding the museum tour with Jerry Saltz). Follow @VultureFestival and @Vulture for updates.
The weekend will kick off on Friday, May 18, with an exclusive opening-night party at the Top of the Standard.
Festival sponsors include AT&T and Audible; media sponsors SiriusXM, NBC4NY, Mayor's Office of Media & Entertainment, iHeart Radio, City Outdoor, Screenvision Media, WNYC Studios; hotel sponsor The Standard; venue partner Milk; and contributing sponsor Taylor Creative.