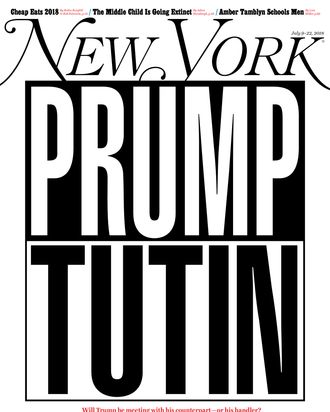 New York Magazine's July 9–22, 2018, issue cover. Image by Barbara Kruger.
For New York Magazine's July 9–22, 2018, issue cover story, columnist Jonathan Chait outlines a plausible theory of Trump's collusion with Russia: that he's been influenced by a hostile foreign power for decades. Chait looks into Trump's transformative trip to Moscow in 1987, why he is the ideal target for blackmail, and what this could all mean for the Mueller investigation.
Chait says he's been closely following the Russia scandal from the very beginning, when most journalists dismissed the idea that Russia had exerted any nefarious influence on Donald Trump and his campaign. "I think the scandal is deeper and worse than most people understand — even people who follow the news closely," he says. "There are just so many facts, so many shady-sounding revelations, but they're frequently disconnected from each other or forgotten. There are so many damning facts in the public record that none of them can stand out. Assembling these facts therefore has the power to shock." In writing the story, Chait says he's concluded that this could all be headed to a much darker place than many of us suspect. "Simply assembling the facts into a coherent narrative suggests a disturbingly plausible chance that Trump is not merely corrupted in petty ways by Russia, but has been totally compromised, perhaps for decades."
The cover image was created by artist Barbara Kruger as part of a collection of visual statements from New York Magazine's 50th anniversary public art project. Kruger has created other memorable covers for the magazine, including New York's October 31–November 13, 2016, election issue, and New York's March 24, 2008, cover on Eliot Spitzer.