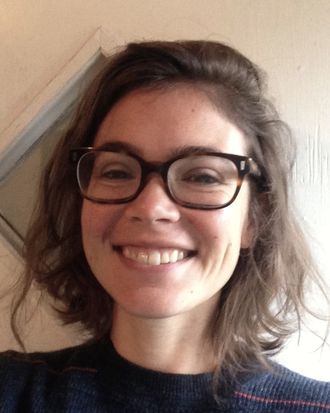 Edith Zimmerman.
Photo: Courtesy of Edith Zimmerman
Stella Bugbee, president and editor-in-chief of the Cut, announced today that Edith Zimmerman (@edithzimmerman) has joined the site's staff as senior health writer, covering health and psychology. In her new role, she'll be working alongside senior health editor Melissa Dahl, and senior health writer Katie Heaney.
Prior to joining the Cut, Zimmerman was a freelance writer and illustrator, with work in The New York Times Magazine, GQ, Elle, Glamour, Maxim, Vice, Dwell, Into the Gloss, Esquire, Cosmopolitan, Maxim, and more. She was founding editor of The Awl Network's women's site the Hairpin, and has appeared on "This American Life."
"I've been wishing that Edith Zimmerman would join the Cut since before I even worked at the Cut," says Bugbee. "Her wit, insights and general outlook on health and wellness will be a welcome addition to the site." Dahl says: "I'm one of Edith's many fans, and I'm so excited she'll be joining the Cut. I can't wait to see where she takes our health and psychology coverage."   
Zimmerman is also editor of Medium's nonfiction comics and illustration site, Spiralbound. She graduated from Wesleyan University with a B.A. in English.