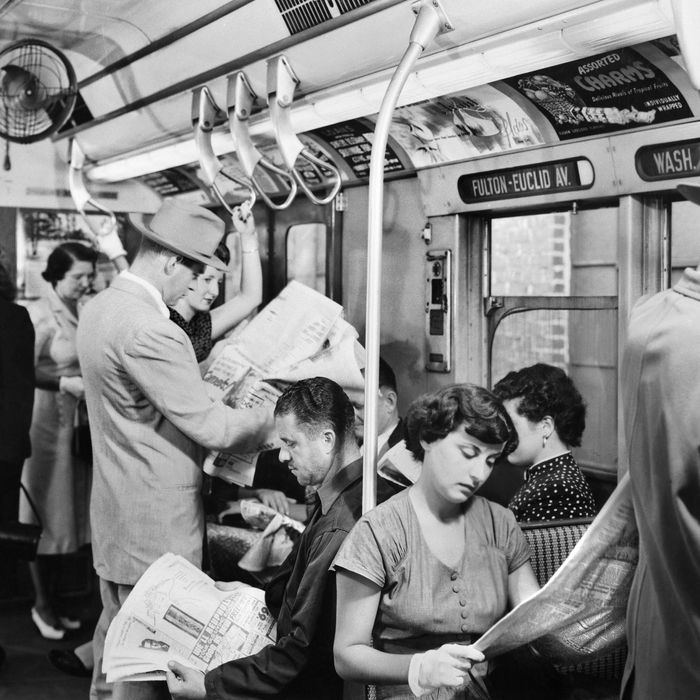 Interior view of a New York City subway car with passengers; subway line going from Washington Heights to Fulton & Euclid Ave. Circa 1950s.
Photo: Bettmann Archive/Getty Images
There is about to be a new journalism institution in town, as reported by the New York Times, with New York Magazine as a proud partner providing tech, editorial, design, and distribution support. The digital organization will be called THE CITY (@TheCityNY), and its mandate will be to fill the gap created by the closing and shrinking of other local-news bureaus by publishing strong, hard-hitting journalism about New York City, specifically: transportation, housing and real estate, climate change, healthcare, immigrant New Yorkers, and criminal justice — as well as the politics of City Hall and Albany. It will be edited by Jere Hester, an esteemed alumnus of the Daily News who has run newsrooms both there and at CUNY journalism school. He will be building a staff of around 15 reporters and editors. Its executive director will be Kai Falkenberg, who comes from the New York City Mayor's Office of Media and Entertainment.
THE CITY is a nonprofit news organization, launching with $8.5 million in seed funding from the Charles H. Revson Foundation, Craig Newmark Philanthropies, the Leon Levy Foundation, Texas Tribune founder John Thornton, the John S. and James L. Knight Foundation, the Miranda Family Fund at the Hispanic Federation, and the Richard Ravitch Foundation. It will join the growing stable of nonprofit newsrooms, like the Texas Tribune, ProPublica, and the Marshall Project, but it is unique in one crucial respect: It will launch in close collaboration with an existing journalism outlet — New York Magazine. What does this mean? THE CITY's journalism will be published in the magazine's content management system (CMS) Clay, and its visual identity will be developed by the magazine's designers and developers. THE CITY's daily report will be editorially independent, but New York intends to find enterprise stories each year to work on together, as in the past with the Marshall Project and ProPublica. Readers will encounter THE CITY's journalism on the nymag.com homepage and elsewhere — it will be clearly identified as independent, but also, in other respects, part of the network.
"We look forward to supporting this important journalism, publishing it to our audience, and collaborating on ambitious projects," says New York Magazine editor-in-chief Adam Moss. "We believe that our partnership with THE CITY provides a new, replicable model for how nonprofit and for-profit journalism can work together."
Indeed, part of this opportunity's appeal is in charting new territory to build a model for public/private journalism partnerships. New York City deserves more substantial local journalism than it currently gets, and THE CITY holds the potential to provide a robust news report unencumbered by business pressures.