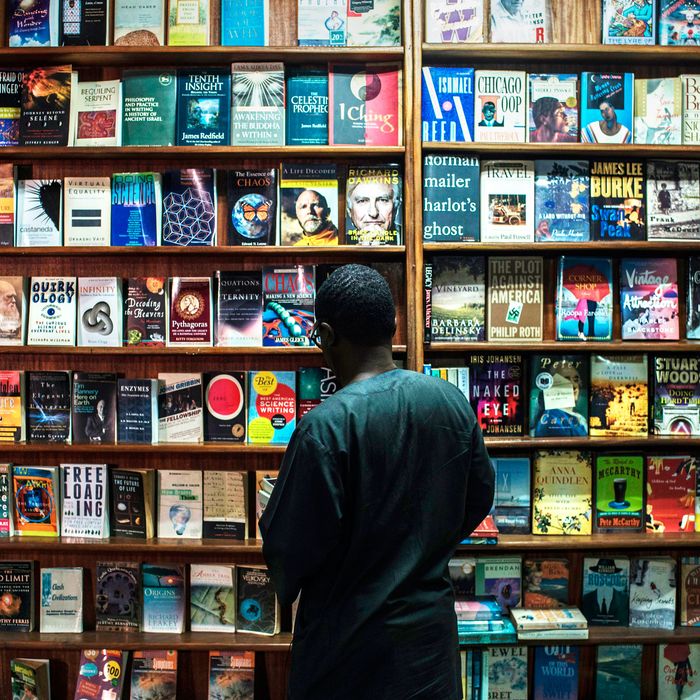 Kunle Tejuoso, owner of The Jazz Hole organizes bookshelves on January 30, 2018. The Jazz Hole is an independent record and book store in Lagos.
Photo: Stefan Heunis/AFP/Getty Images
New York Media is greatly expanding and reimagining its books coverage, with Boris Kachka in the new role of books editor, overseeing the books "horizontal" across Vulture, the Cut, Daily Intelligencer, the Strategist, and Grub Street, as well as New York Magazine. Beginning this week, New York Media will roughly triple the volume of books coverage, while aiming to better align with how people engage with books and departing from traditional single-book reviews tied to the publicity cycle. Contributors will include Christian Lorentzen, Maris Kreizman, Lila Shapiro, Hillary Kelly, and many others.
"We use books in so many ways: as art and entertainment; breaking news and historical context; beautiful objects, or stories streaming into our earbuds, or great gifts for any occasion. Connecting readers to books — the imperative of New York Media's expansion of books coverage — requires reaching them where they live, in every section and silo across our network," says Kachka. "Our goal is to cover not every book, but every reader."
Coverage will include:
Anchoring launch week is the feature project "A Premature Attempt at the 21st Century Canon" ― the 100 most important and enduring books of this century, as chosen by ~30 critics and writers and already prompting debate.

Expanded coverage of audiobooks, including seasonal roundups of new audiobooks the editors are excited about, beginning on launch week with lists of the best (and best-selling) audiobooks of the year so far, an essay on why audiobooks are growing, and more.

Increased coverage of genre books (horror, YA, etc.), beginning with a profile of fantasy icon Deborah Harkness.

Lit Parade — a regular read on the most important critical conversations around new releases — and seasonal takes on the books people will be talking about in months to come.
"I Can't Stop Thinking About …": Occasional meditations on the classics, old and new, that mattered most to our writers (starting with Hillary Kelly on The Virgin Suicides.)
More excerpts from new books (such as Sarah Weinman's The Real Lolita); profiles of writers (like Ottessa Moshfegh and Lisa Hanawalt); and essays by authors (like Kim Brooks and Lydia Kiesling).

A new series called "Yesterday's Women," in which essayists rediscover and celebrate overlooked women writers.
A weekly Q&A with the author of an important nonfiction book. Featured and upcoming writers include Bob Woodward, Michael Lewis, Jill Lepore, and others.
Lists of the best books for young readers of all different ages, as well as reading lists exploring a topic such as the opioid epidemic.
Food and restaurant site Grub Street will run regular roundups of the best new cookbooks, as well as excerpts from chefs'/restaurant-world memoirs.
Vulture will continue to host a regular, IRL book club at New York City's Strand Book Store, with the next event happening Monday, September 24, with Tara Isabella Burton, author of the novel Social Creature, and continuing in October with best-selling novelist Gary Shteyngart. Past authors have included Jennifer Egan, Carmen Maria Machado, Tony Tulathimutte, and Stephanie Danler.