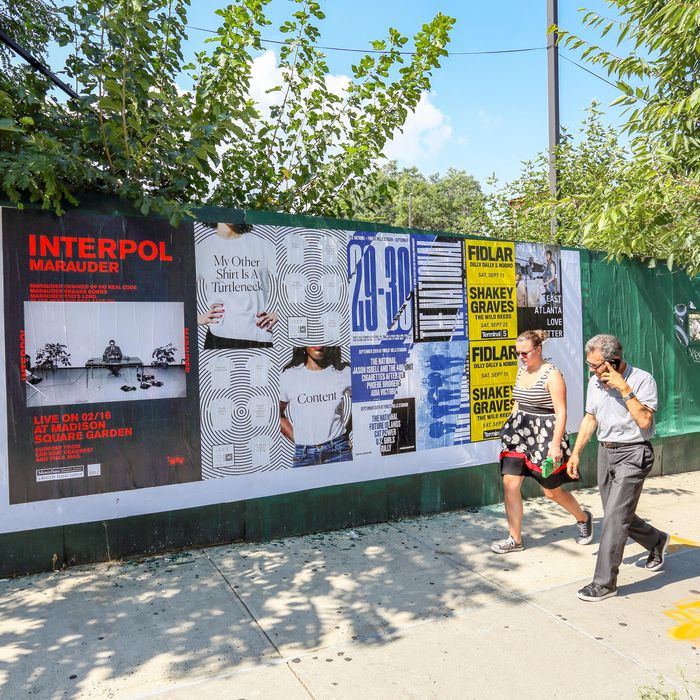 Photo: steven greaves/steven greaves
As New York Fashion Week kicks off this week, the Cut and Merch by Amazon are collaborating on a first-of-its-kind guerilla street marketing campaign promoting the Cut's popular print-on-demand T-shirt line with wheat-pastings in 40 locations centered in lower Manhattan and Williamsburg, from September 6–13. Four posters designed by the Cut feature the shirts and a "SmileCode" that customers can scan from their mobile devices to access the Cut store in the Amazon App, allowing them to make purchases in real time.
This past April, New York Media's women's lifestyle site the Cut launched its first "wearable content" line, which now includes 50 shirts. Enabled by Merch by Amazon's print-on-demand capabilities, each week a new shirt is added to the collection featuring viral headlines and timely phrases like "My Favorite Meat Is a Hot Dog," "Fake German Heiress," and "I Think About This a Lot." More than 2,600 shirts have been sold, and they've become an Instagram phenomenon under #TheCutShop.
"When we first launched the shirts and started promoting them on our social channels," says the Cut president and editor-in-chief Stella Bugbee, "we didn't realize we were creating a viral campaign, but we were." Bugbee adds that seeing the Cut's audience contribute their own sensibilities to the shirts has been rewarding for the whole staff. "People really bring their own sense of humor to the shirts. We've seen a lot of men buy the 'Married Mom Looking For Men At Balthazar' shirt, for example."
"Our collaboration with the Cut is turning fast fashion into instant fashion, offering customers more selection quicker than ever," says Miguel Roque, director of Merch by Amazon. "Customers can shop new designs literally from the streets of New York using the SmileCode, make their purchase in seconds, and receive a shirt within days. Bringing this innovation to New York Fashion Week is a glimpse into what is possible when creators collaborate with Merch by Amazon."