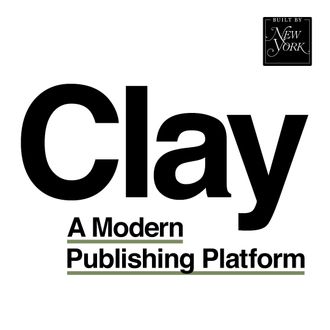 Clay, New York Media's publishing platform and content management system (CMS), has been licensed by Golf.com and Entercom's Radio.com, joining Slate and New York Media's sites including New York Magazine, Vulture, the Cut, Intelligencer, Grub Street and the Strategist. Clay allows publishers to innovate and customize the platform for content of any kind, including articles, home pages, marketing pages, e-commerce, and more.
"We're excited to add Radio.com and Golf.com to the Clay consortium," says New York Media's chief product officer Daniel Hallac. "Their varied use cases — from Radio's single-page app streaming service to Golf's comprehensive listings database — show the flexibility of the platform. With Clay, publishers control their own destinies and don't need to adapt to a rigid, out-of-the-box CMS."
In development since 2015, Clay — named after New York Magazine's founder Clay Felker — has allowed New York Media to scale the company's award-winning network of sites, along with key partners who contribute to improving the platform in an open-source framework. Clay enabled New York Media to launch its new Intelligencer site in October with only about a month of development work.
"The design of the Clay platform is elegant and purposeful," says Howard Milstein, publisher of Golf Magazine and Golf.com. "We saw an opportunity in partnering with New York Media to accelerate our own goals, and the open-source nature of Clay means that we can bring our own world-class technologists to bear in contributing new and additional functionality for the good of the larger ecosystem. This type of approach is core to delivering content and experiences to modern audiences when, where, and how they want them."
Clay, developed off of an open-source framework, is a component-based platform that is fast and fully responsive to work in a mobile-first world, and supports publishing everywhere from the web to newsletters and third-party platforms like Apple News and Google AMP. Clay also integrates multiple monetization strategies, whether a business depends on advertising, sponsored content, or direct consumer revenue and subscriptions.