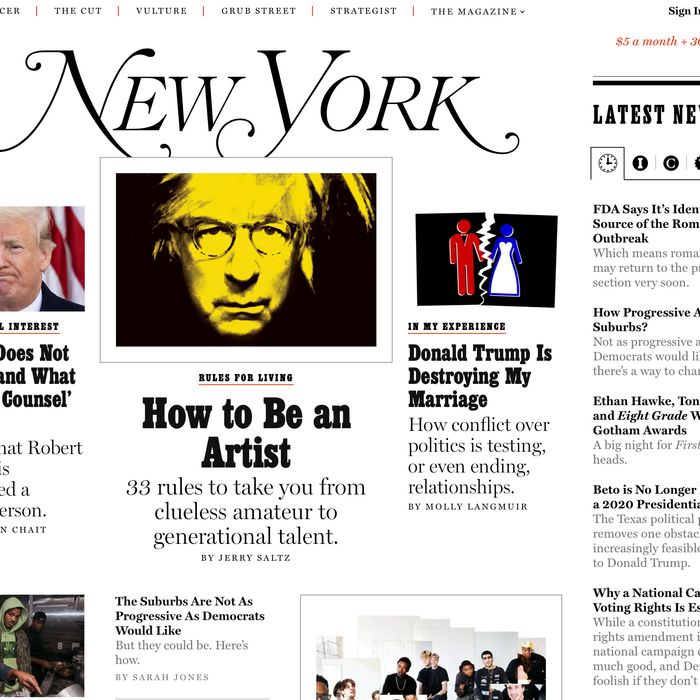 New York Magazine today unveiled a new nymag.com home page design with a cleaner, more modern look, to better showcase content from across the New York Media network, which includes Intelligencer, the Cut, Vulture, Grub Street, and the Strategist. The launch is in tandem with New York's digital subscription product, also going live today, as well as a new network-wide navigation.
"The nymag.com home screen has always been the purest distillation of New York's digital experimentation, expansion and expression — packing a dense visual punch and striving to capture the sense of serious fun inherent to our sprawling coverage," says New York Media's chief creative officer Ian Adelman. "In this new design, these sites are woven together in a way that demonstrates their common DNA, while also giving each of them space to be themselves. All of this happens in a layout that maintains elements of our hallmark layout density and exciting visual expression while introducing a bit more order and allowing for an even wider range of journalistic demeanor."
Each iteration of the nymag.com home page has presented a new challenge, with more range to cover as new verticals are launched — most recently Intelligencer and the Strategist — and have developed stronger individual personalities. New York Media's digital audience continues to grow, with 45 million users in October across the network, up 40 percent over October 2017 (Google Analytics).