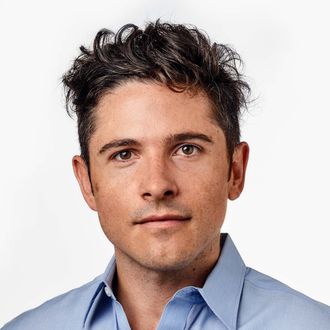 Pam Wasserstein, CEO of New York Media, announced today that David Haskell will succeed Adam Moss as editor-in-chief of the company, overseeing New York Magazine and digital publications Vulture, the Cut, Intelligencer, the Strategist, and Grub Street. Haskell will formally step into this role on April 1. He has worked at the company since 2007 in a variety of roles, most recently as editor for business and strategy (since late 2016), shaping the magazine and editing features while also leading editorial strategy for books, film, television, podcasts, and events across the magazine and its digital verticals. He will be the eighth editor-in-chief in the magazine's 50-year history.
"When Adam told me that he'd be stepping down, it was quickly apparent to me that David should be the person to succeed him, and I'm thrilled that he accepted the challenge. He is a brilliant editor, boundlessly creative, and always inventive in the service of our journalism. We have worked closely together, particularly in the last two years, when he has helped us to establish new business ventures that build on our legacy in exciting ways. I know that he will uphold the highest standards of excellence and delight our readers," said Pam Wasserstein.
"David Haskell is a superb editor with wide-ranging curiosity, unerring taste, reverence for talent and mastery at making magazines.  Especially useful at this juncture, he is also a natural and proven entrepreneur, and he will be a perfect partner to Pam Wasserstein going forward.  I have known David his entire career and I am confident New York Media's creative future across multiple arenas is in excellent hands," said Adam Moss.
David Haskell has been an editor at New York since 2007, when he was invited by Adam Moss to guest-edit a special issue on London. He has edited almost three hundred features for the magazine, and was the captain or co-captain of 14 special issues, including My New York (the 50th Anniversary Issue), Hope and What Came After (a retrospective of the Obama years), The Apartment and Scandal! (the first two of a series of "yesteryear" anniversary issues), and My First New York (about notable New Yorkers' arrivals in the city, which he then expanded into a book published by Ecco/HarperCollins). He has edited much of the magazine's longform political coverage and has played an important role in assembling the magazine's roster of political writers in print and online. In his current role developing editorial growth projects, he's worked off of the philosophy that the company's editorial excellence—what he calls "its intelligence and wit and curiosity, its magazine legacy, its culture of innovation and ambition"—is its greatest business strength. He secured a four-book deal with Simon & Schuster, which began with Highbrow, Lowbrow, Brilliant, Despicable (the story of a half-century of New York City, seen through the lens of New York); and helped launch the Artist Covers project, the Cut on Tuesdays podcast, the How I Get It Done event series, the Cut's t-shirt line, Vulture's collaboration with TruTV, the magazine's collaboration with OnlyNY, and many Hollywood projects. He has also worked closely on the launch and development of the Strategist, helping expand the magazine section into a digital publication whose business success is directly linked to how entertaining and trustworthy it is to read.
"For almost twelve years, New York Magazine has been my family, Adam my mentor and friend, and the work we publish my favorite to read. It's hard to imagine New York without Adam, but at the same time, his fingerprints are all over this place—and he is leaving us having built the finest editorial department in our 50-year history. I'm wildly grateful to him for this legacy, and to Pam for trusting me with the future of this very special place," said Haskell. "We are living through an extraordinary time in American life, one eerily well suited to New York's strengths and obsessions. It's now my job to make sure we cover it all with the intelligence and creativity our readers have come to expect."
Before coming to New York, Haskell edited Topic Magazine, which he co-founded as a graduate student at Cambridge University in 2002 and brought to New York City in 2004. He was at Cambridge in the inaugural class of the Gates Cambridge Scholarship, studying architectural history and living partly in Barcelona, where he researched the political use of architecture in the post-Franco years. He graduated from Yale in 2001 and was a Truman Scholar class of 2000.
A testament to his entrepreneurial spirit and creativity, Haskell has two meaningful outside projects. He co-founded Kings County Distillery in 2009 with his college friend Colin Spoelman. It makes award-winning whiskey in the Brooklyn Navy Yard, and was the American Distilling Institute's Distillery of the Year in 2016. Haskell remains a leader and co-owner of the business, with Spoelman the CEO and full-time head. Together, they wrote two books published by Abrams: The Kings County Distillery Guide to Urban Moonshining, and Dead Distillers. Haskell also makes ceramics, mostly wheel-thrown, working out of Sculpture Space in Long Island City. He is represented by Donzella in Tribeca and regularly shows plant-specific work at Coming Soon in the Lower East Side.
He lives in Chinatown with his husband Esteban Arboleda and turns 40 on April 10th.
Wasserstein sent this note to the company's staff this afternoon:
Hi everyone,

 

I'm excited to share that our own David Haskell will succeed Adam as our next editor-in-chief, effective April 1st.

 

David is a staggering editorial talent, with tremendous leadership abilities and deep experience in the specialness of this place. He is steeped in our creative sensibility. If you love something about what we do here, chances are David had a substantial role in creating it. After twelve years at New York, he has edited almost 300 features, some of our most outstanding editorial packages, and much of our longform political coverage. And he shares Adam's eye for talent, evident in our influential roster of political writers and several senior editors he has recruited over the years.

 

We are an ambitious place, offering an essential perspective on our culture to a discerning audience. We cover a lot of territory, and David flexes gracefully around all of it. He is equally passionate about our cultural and service journalism as he is our political thinking. In the last few years, as Editor for Business and Strategy (an admittedly-clunky title for an unusual role), he has conceived, assigned and edited features while working closely with me and many of our business, marketing, product and design colleagues, as well as outside partners, to extend our creative voice in important new ways. He has been instrumental in guiding the launch and growth of The Strategist. He has overseen or contributed to initiatives including our partnership with Simon & Schuster, our Artist Covers project, the Cut on Tuesdays podcast, signature live events, the Cut's t-shirts, Vulture's collaboration with TruTV, our apparel partnership with OnlyNY, many creative collaborations with clients, and multiple TV and film projects.

 

Since many of you have already collaborated with David, you have probably experienced firsthand his strategic mind as well as his creative output. We can all attest to the spirit of good humor, empathetic kindness and thoughtful collaboration that he brings to everything he touches. And it might not surprise you to learn that David's entrepreneurial spirit has driven him to actual entrepreneurship: he's developed a successful side-hustle as co-founder of Kings County Distillery. Just to completely gild the lily talent-wise, he also happens to be a gallery-represented ceramics artist. A certain hilarious absurdity emerges when you try to enumerate David's prodigious abilities, but that's genuinely David, and he wears it in the most unaffected way. 

 

In his new capacity, he has made a point of giving an early, in-depth interview to our little gem of an internal newsletter, the New York Note (stay tuned for publication!). You'll find that this is typical David: he is a zealous champion of the quirky, delightful things we make here, a generous colleague, and he recognizes a fantastic editorial product. 

 

While acknowledging the uncertainty inherent in transitions, Adam said yesterday that he believes he personally will come out of this moment in an interesting, great place. Of course he will, and the same is true for us here. (An aside about Adam: how appropriate that – in addition to the beautiful tributes we're seeing to his work and his person – he has suddenly developed a niche following as a kind of guru of life change? Even in scaling back the man can't help but inspire.) 

 

I mentioned yesterday that part of Adam's magic is his cultivation of an unbelievably talented bunch; he really has blessed us with the team that will shape this place for years to come. I am certain that David will treat the mantle he inherits with appropriate reverence as he extends our ethos of experimentation and invention into the future. He will find fantastic new ways to innovate, and I am personally thrilled to partner with him on our next chapter.

 

Please join me in congratulating David. And if you're in the office, please come toast Adam and David at 4 p.m. today in the Canal Conference Room.

 

Pam