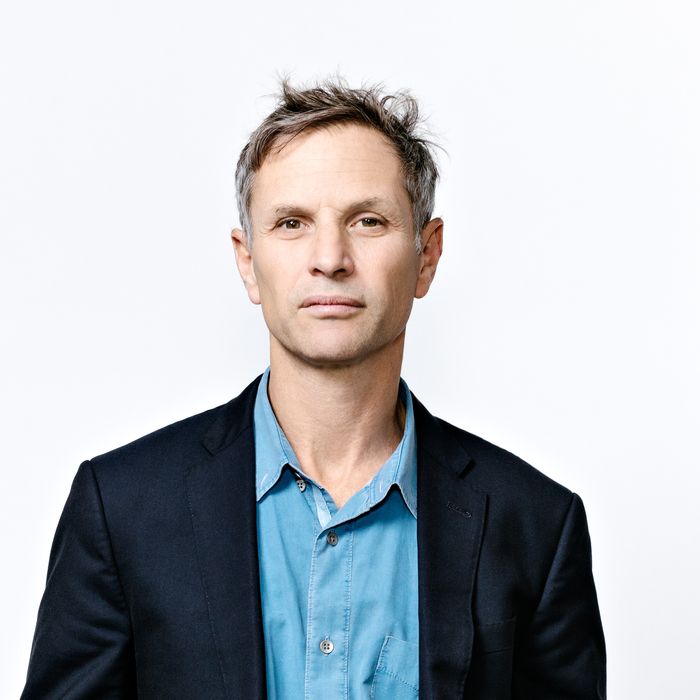 Adam Moss.
Photo: Axel Dupeux
New York Media editor-in-chief Adam Moss announced today that he will be stepping down from his role at the end of March, after a 15-year run that oversaw the transformation of New York from a single publication to a groundbreaking and acclaimed multi-title print and digital company. Since March 2004, Moss has overseen New York Magazine, which celebrated its 50th anniversary in 2018, and the development of five digital sister publications — Vulture, the Cut, Intelligencer, the Strategist, and Grub Street — all of which are widely recognized for editorial excellence and inventiveness. A successor will be announced shortly.
"Adam showed the world that a legacy print publisher could lead invention in digital products, that a brand with local origins could own national conversations, that a diversified premium media business can be constructed around an original editorial voice. He leaves at the top of his game (not a surprise: it's the only way he operates). And he leaves the company in an enviable position — reaching the largest, most engaged audience in our history," said New York Media CEO Pam Wasserstein. "On a more personal note, he is an inspiration and a joy. I have loved every minute of our partnership, and I am beyond grateful for his friendship."
Under Moss's leadership, New York has been at the forefront of magazine innovation and new ways of telling stories across all its platforms. He has twice reimagined the print magazine, making it more national in scope while retaining the New York point of view — smart, skeptical, optimistic, with a sly sense of humor — that unites everything the company publishes. In his first year at New York, Moss completed an extensive renovation of the magazine, launching new columns, ushering in a new generation of writers and photographers, and increasing the magazine's political and business coverage. He also emphasized an enhanced commitment to covering cultural happenings (in "the Culture Pages") and introducing the "Strategist" section, an urban sourcebook. In 2014 Moss again reimagined the print magazine as it moved to biweekly frequency, adding features, an increased emphasis on photography and visual storytelling, a new fashion section ("the Cut"), and new columns. Writers he hired in the magazine's current iteration include Rebecca Traister, Frank Rich, Andrew Sullivan, Jonathan Chait, Jerry Saltz, and Cathy Horyn, among many others.
In 2006, he oversaw a year-long relaunch of the magazine's website, nymag.com, transforming it from a magazine companion site into a redesigned, up-to-the minute news and information site, anchored by Daily Intelligencer (now Intelligencer), covering politics, technology, business, media, and innovation. Moss directed the development of Vulture into a leading national entertainment website, the expansion of nymag.com's Grub Street food and restaurant blog, and the ambitious evolution of the women's site the Cut, named Website of the Year by Adweek in 2018. The Strategist, an e-commerce site building on the magazine's legacy of intelligent shopping coverage, launched in 2016. Monthly unique users at the sites have grown dramatically, to a record 53 million in May 2018.
During Moss's tenure New York and its digital publications have won 40 National Magazine Awards, more than any other magazine over this time period, including Magazine of the Year, six awards for General Excellence in print and six for General Excellence online or website, as well as awards for video, profile writing, essays, multimedia, personal service, seven for the Strategist section and two for the Culture Pages section, four for the magazine's design, two each for leisure interests, single-topic issue, and online fashion coverage. Jerry Saltz, the magazine's senior art critic, won the 2018 Pulitzer Prize for criticism. New York's pioneering journalistic event "Cosby: The Women" won the 2015 George Polk Award for magazine reporting. The magazine has won the Society of Publication Designers' Magazine of the Year award and the American Society of Magazine Editors' Cover of the Year award three times each during his tenure. In 2017 Advertising Age named New York Magazine of the year and Moss editor of the year, an honor he also received in 2007 and 2001. Adweek named him editor of the year in 2016 and New York was named magazine of the year, recognizing in particular its coverage of the presidential election. He was awarded an honorary Doctor of Humanities degree from his alma mater Oberlin College in 2005, and the Missouri Honor Medal for Distinguished Service in Journalism in 2012.
Before joining New York Magazine, Moss was the editor of the New York Times Magazine, as well as assistant managing editor of the paper, overseeing the magazine, Book Review, culture and style. He was founding editor of 7 Days, a New York weekly magazine, which won the National Magazine Award for general excellence in its circulation class in 1990. Before that, he worked at Esquire magazine in a variety of positions, including those of managing editor and deputy editor. Earlier he worked at Rolling Stone magazine.
Moss sent this memo to the company's staff this morning:
Everybody,




On March 1, I will have been the editor of New York for 15 years. That's about twice as long as Clay Felker, and longer than any of my other predecessors. It has been, as Wendy Goodman would say, beyond, but it is now time. On March 31, I will be stepping down.




There are many reasons, but they pretty much boil down to this: editors ought to have term-limits. Experience is good, but after a while every institution needs a blood transfusion. Plus: I've always only really known how to edit for myself, and I no longer feel that makes sense for me and New York ("What is a PewDiePie?" I think I actually said). I want to see what else I can do. I thought hard about all this last summer. Then in September I sat down with Pam and told her I thought it was time for me to go. 




I leave with great apprehension but all of it is personal — I love this place, and I'm not entirely sure what I'm going to do next. I don't feel any anxiety for the company. For most of you I have been the only editor of New York you have known, but I have never subscribed to the myth of the all-powerful editor – I get way more credit than I deserve for the work that you do. My job has been to point the way, surround myself with people I trust, and hope for the best. And the best is what you – successive generations of you – have delivered. This is your magazine. You are a crazy-talented crew, and, as I began to assemble an account of this decade and a half, I found myself beyond proud of what you have accomplished.




For starters, in 2004 when I arrived, things were pretty simple: we were mostly working with a pile of paper– words, pictures, end of story. I came to New York because I had always been infatuated with the magazine that Clay and Milton Glaser founded. I was excited just for the opportunity to edit it. That was more than enough.




A decade and a half later, where once there was one magazine, now there are six – five invented from scratch, and the original one substantially renovated. Each is strong, original and fabulous. Look what you've built: The Cut began as a fashion blog and the editors evolved it into something richer and more complex, in the process inventing what a woman's magazine can be in 2019 – simultaneously political, personal and stylish. It is on fire. Vulture was clearer about what it was from the start but the Vulture staff deftly navigated it so it now owns high-brow low-brow cord-cutting entertainment, and with it the fierce loyalty of the generation of fanatics devoted to it, making it our largest publication. In my view and many others, the all-star Intelligencer team publishes the smartest, wittiest, most prescient political (and now also business and tech) commentary anywhere – quite an accomplishment in these times. And, by the way, it delivers it in an original homepage format that demonstrates that innovation continues to drive this company's evolution. The Strategist is a truly editorial ecommerce site – and is nearly unique in that regard: it has proven that the authority of the original New York can be harnessed for commercial means with all of its integrity and sense of joy intact, and it is an unbelievable growth story. Grub Street just launched The Thousand Best, which is a state of the art tool for navigating restaurants; Grub Street continues to punch way above its size. And the print magazine has lost none of its vitality, strength and journalistic rigor at a time when, in my view, many print magazines just seem to be giving up – I was particularly happy to see that nine of its stories made the Chartbeat list of the 120 most-engaging (in other words, most-read) stories of 2018 – three in the top ten. It is not unusual for the work of New York in all its parts to reach 50 million readers a month, which is more than a hundred times the numbers of readers we reached in the good old days. And the best thing about that is that we have grown without diluting the worth of our journalism. Almost all of the time, our most ambitious stories are also our best read.




The awards you've received during this period are certainly nice but I've always felt that the best part of them is their breadth — you win stuff for almost everything we do, and the range of the work that gets cited just goes to show how good our journalism is across so many arenas. You are recognized for your excellent essays, commentary, criticism, long form stories, reporting, video, and multimedia. You make single magazine issues that are judged the best of the year; also over and over you prove the full potential of digital journalism, which we entered early, without fear, and showed everyone else how to do. I am convinced (even if we never get credit for it) that in a very real sense you ushered in the MeToo era by bringing down potentates like Roger Ailes and igniting the taking-down of Bill Cosby. Your wisdom urgently, beautifully framed this powerful feminist moment – and continues to do so. You understood the stakes of the Trump administration before anyone believed it even possible. Your coverage of Washington – not just Trump's Washington but also many other eras – is just shockingly good - and fearless, and right now, as the politics of our time seem to be evolving so rapidly on the right and the left you are absolutely killing it in making real sense of what is happening. You love this city and did a lot to define its modern era, but you are also its most brilliant critic. You are leading the thinking on climate change, urbanism and, incredibly, given how competitive this coverage is, technology and its effects. There's a reasonable case to be made that nobody's better on peak television, your food coverage is still the gold standard, you excel at covering our own media backyard, and your interiors coverage is amazing – and that's by just one of you! The look of your work, across both print and digital, is gorgeous and original and widely imitated. You are nimble, you adapt fast to the next storytelling medium and the next storyline, and your instincts seldom fail you (well we all fail sometimes, but this is not the place to go into that). You are not afraid to be ridiculous, because you know the value of lunacy and you're really funny. You have realized my dream for this place, which was for it to be as smart as it is entertaining, or as entertaining as it is smart, I'm never sure which, news media having always been this impossible mix of entertainment and public service. You've turned a local publication into a national (even international) publication (also: suite of publications) united by a New York lens which retains its clarity, its sharpness, and exuberant curiosity no matter where it is pointed. You now speak in so many languages – the printed word, digital word, audio, video, live events, the single image, the six-frame social media story, physical retail! – and you are fluent in every single one of them. And lately you've begun to successfully tackle our biggest challenge – the assault on the business model that has sustained media for a century – by showing early but very encouraging returns on our transition to a subscription business, and with the staggering success of ecommerce.




So, that's a lot, and I could go on for twelve more paragraphs. And I'm certain you'll continue to do amazing things because you're just really, really good at what you do. I confess that I will not at all miss being your boss (managing being something I hope never to do again), but I will miss you terribly. I actually think my real talent is that I hire well and because I have always hired for some combination of wild talent, personal decency and a refusal to take things too seriously (and because I hope those traits have been contagious down the line), I find myself surrounded by a team of people I adore. The best thing about magazines is that they are truly a communal effort, more like a kindergarten project than anything else, and that's what I am saddest about giving up. I'll miss playing with you all.




I'm not going away entirely. I will stay in the New York family as an advisor to Pam and anyone else who asks for my help. But I won't be running anything, making any decisions – and I'll be off doing many other things at the same time (what?! – I'm determined not to think about that until I walk out the door).




I've addressed this note mainly to the editorial staff, but I also want to express my gratitude to our business colleagues – what they do is unbelievably difficult, especially in this climate, and their work makes everything possible. Above all, they are deeply respectful of our journalism, even when that journalism leads us to places that make their jobs even harder. It has been a privilege working hand in hand with them. Editorial and business are truly partners here, and that is a rare and wonderful thing.




Finally, a word about Pam. I have been extremely fortunate to have been editor during the Wasserstein ownership, but never more so than during the Pam Era. She loves this institution, believes in all of you and what you do, and has invested so very much – heart, soul and so much more – into New York. Her savvy and courage, the decisions she has made, are right now coming into focus – her bets are working. Don't take her for granted. I can say with some confidence you are in kinder, wiser hands than you will ever be again in your working lifetimes.




She will be announcing my successor shortly. After that I suppose I will be a lame duck, but as proud a duck as ever waddled the earth. I'm here for a while yet, but allow me to take this moment to thank you all for your work, your friendship, your (principled) obstinacy, your brilliance. I know this is the right thing to do, but I am leaving with a big ache in my heart.




Adam
Wasserstein sent the following memo about Moss to the company's staff:
Hi everyone,




I've had a chance to sit with Adam's news and, after some bargaining and a heavy denial period, I'll share that I'm mostly settling into a bittersweet but proud acceptance. Of course we will all end up there, and how could we not? Adam has been doing this job, beautifully and relentlessly, for nearly 15 years. He has achieved much more here than he ever set out to (and, make no mistake, behind that unassuming manner lies a deeply ambitious human; he arrived with lofty goals). His tenure here has stretched years longer than he'd ever imagined. In every sense, he has delivered beyond our hopes and dreams. So when the man Spy magazine once described as New York's most huggable editor-for-hire lets you know he wants to step away from managing and try something new, you may get quite teary, but you give him a damn hug.




It's not in the least hyperbolic to say that we can credit most things about this place to Adam's vision and leadership. We are here today because he defined a voice that is playful, witty and wise. Our editorial sensibility earns the trust and enthusiasm of our audience, it grounds everything we do in authenticity and authority. It remains, as they say, often imitated, but never duplicated. Adam defined our brands, and thereby defined our company. He invented an urgent, beloved, deeply necessary, modern multi-platform magazine, and then created five more.




Through that transformative act, he inadvertently produced a beacon of innovation for our industry, with impact far outside our own walls. He showed the world that a legacy print publisher could lead invention in digital products, that a brand with local origins could own national conversations, that a diversified premium media business can be constructed around an original editorial voice.




Over these 15 years, Adam has honed the qualities that distinguish us from the pack. He leaves us at the top of his game (not a surprise: it's the only way he operates). And he leaves us in an enviable position. We are reaching the largest, most engaged audience in our history. Vulture, Intelligencer, the Cut, Grub Street and the Strategist are essential, each filled with the confident authority that Adam first burnished at New York.




We should never take the vitality of our journalism for granted; certainly Adam never has. One of the hallmarks of his leadership is the drive to question our orthodoxies; he invents and deconstructs and invents anew. As part of his interview process here way back in early 2004, Adam shared the perspective he hoped to bring to New York magazine:




"A magazine needs to be grounded in a point of view. It needs to have a firm fix on its audience and its subject.… The fact is, I'm pretty ambidextrous. I'm equally comfortable at high and low altitude. All I need to move me is a great story or a provocative thought. I am infatuated with newness, and understanding that newness in the context of what came before it."




Given that the media landscape of 2019 bears little resemblance to the world of 2004, the consistency of Adam's vision is all the more remarkable.




It is a rare professional privilege to experience a master at peak performance. While our audiences enjoy his genius in the beloved brands he has built, we are the lucky few who have watched Adam live and breathe and invent this company, with unmatched energy and ambition. He personifies the voice that he crafted here: he is all empathy, humor, curiosity and smarts. This may be why Adam – by many measures the most awarded editor of our era – inspires only genuine adoration and admiration in this notoriously catty industry. He is an inspiration and a joy. I have loved every minute of our partnership, and I am beyond grateful for his friendship.




Today is about Adam, and celebrating his remarkable tenure here. But to bastardize the Jerry Saltz-inspired addition to #thecutshop collection, Journalism Never Sleeps, and I also want to share with you my confidence that continued excellence and innovation lie in our future. While I'm not quite ready to share specifics, you can expect news of a successor in the near future. And Adam will remain in the family as an advisor, so we will continue to benefit from his pointed questions and excited obsessions. Moreover, his legacy here persists in all of you. Part of Adam's magic is his eye for talent, and he has recruited, trained and nurtured the best in the business. He is the first to admit credit for his accomplishments lies with this team, and ultimately it is you who make me quite certain that we will continue to inspire, enrich and entertain as we embark on the next 50 years of our history.




Please join me in congratulating Adam or tearfully, gratefully hugging him.




Pam