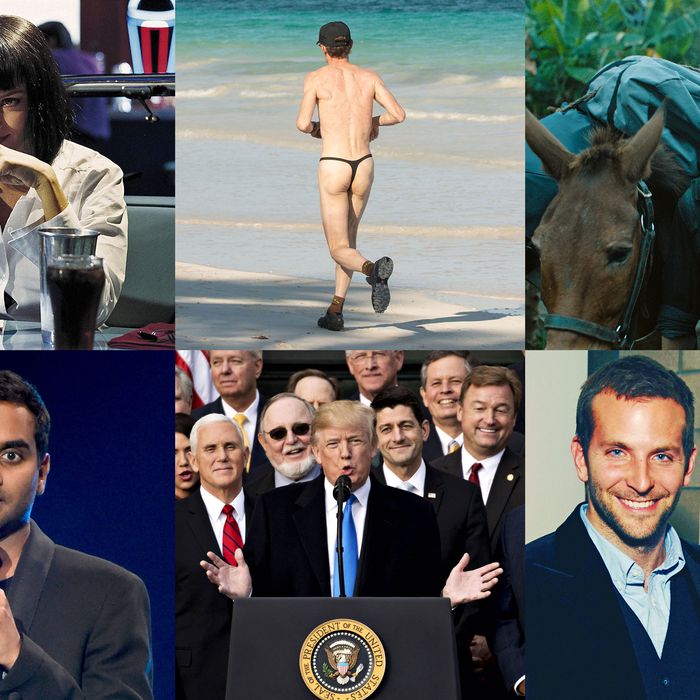 Photo: Clockwise from Top Left: Miramax; Sam Youkilis; Netflix; Mark Sullivan/WireImage; Andrew Harrer/Bloomberg; Kevin Mazur/WireImage
February means two things: indoor weather for half the country and awards season. Unsurprisingly, New York's readers spent a significant amount of time last month reading about what to watch, and how to make sense of what they'd just watched. Continued political dysfunction in the Trump administration also emerged as a theme, with dives into Trump's tax cuts, the GOP's relationship to Obama, and more. The most popular stories of February, based on the total amount of time readers spent on each, are all made possible by the breadth of coverage and compulsive readability of Intelligencer, the Cut, Vulture, Grub Street, and the Strategist. These are also the kinds of stories that you get unlimited access to as a digital subscriber of New York.
10. Aziz Ansari Reflects on Sexual-Misconduct Allegation at His NYC Pop-up Show
9. Who Killed Tulum?
8. The 100 Best Movies on Netflix Right Now
7. How Dirty John Actors Compare to Their Real-life Counterparts
6. Trump Tax Cuts Are (Probably) About to Become a Political Disaster
5. Momo Isn't What Parents Need to Worry About on YouTube
4. Bradley Cooper's Ex-Wife Has a One-Word Response to That 'Shallow' Performance
3. The Nature of Sex
2. Republicans Keep Admitting Everything They Said About Obama Was a Lie
1. New on Netflix: February 2019