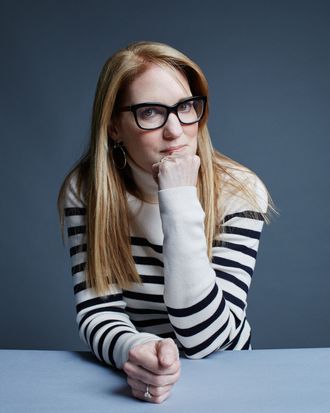 Stella Bugbee, president and editor-in-chief of the Cut, announced today that Jane Larkworthy is now the site's beauty editor-at-large and will be writing about beauty exclusively for the Cut. Larkworthy has written a weekly column for the Cut, "The Beauty of It All," since 2018, which she'll continue writing along with an additional two features per month in a variety of formats, from product reviews to trend stories to interviews. Larkworthy joins the Cut's beauty director Kathleen Hou and beauty writer Erica Smith, in a role last held by Linda Wells.
"I have always admired Jane's sense of humor and thoughtful approach to covering beauty, in a way that is useful and smart," says Bugbee. "She has the beauty knowledge of a true obsessive but she writes in this fun, breezy tone that makes it all seem so easy."
A magazine veteran for more than 25 years, Larkworthy was most recently executive beauty director of W Magazine. Her career began at Glamour, then Mademoiselle. She went on to become the first beauty director at Jane magazine, where she stayed for three years before Patrick McCarthy moved her to W, both Fairchild publications at the time. She lives in New York with her husband and standard poodle.
"Ever since Stella tapped me to write 'The Beauty of It All' column in early 2018, I'd been hoping to join her and her team in a broader capacity. We rely on the Cut for its news, of course, but also for its unique take on said news, as well as its insightful thought pieces and candid humor. I'm both honored and excited about this new chapter," says Larkworthy.