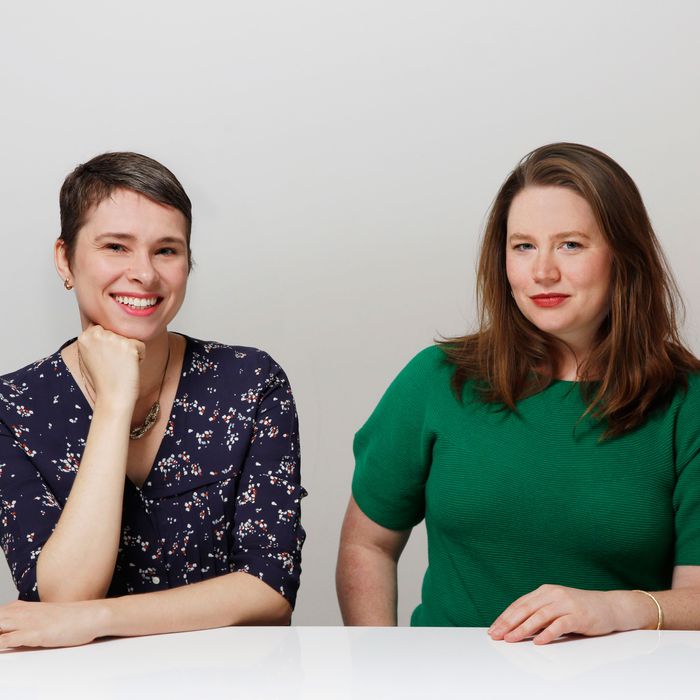 Left to right: Genevieve Smith and Noreen Malone.
Photo: Marvin Orellana/New York Magazine
David Haskell, editor-in-chief at New York Magazine, announced on Monday that he had promoted Noreen Malone to editorial director and Genevieve Smith to features director. In her new role, Malone will help Haskell shape the editorial direction of New York and its digital properties, paying special attention to cultivating writers and editors across the organization. As features director Smith will work with Haskell and other editorial leaders to guide individual story ideas from conception to assignment to publication; both Malone and Smith will continue as editors of enterprise projects and ambitious long-form writing.
"Noreen's career has been exciting to watch at every stage, but none has been as thrilling as the most recent, where in the last couple of years she has mastered the art of magazine feature-editing. She is a true writer's editor, sensitive and artful and creative without being too precious — and the writers she works with know it," Haskell said in a memo to the staff.
"It has become clear that there is nothing that Genevieve can't do. She has for a handful of years been a terrific features editor, but it is obvious to me that she also has that big-picture talent, or maybe it's the X-ray vision, to look at a very complicated but promising mess of material and recognize how to make happen exactly what you want to make happen," Haskell said.
Since 2014, Noreen Malone was a features editor at New York, during which time she edited Rebecca Traister's National Magazine Award–winning columns on Harvey Weinstein and the #MeToo movement, Reeves Wiedeman's reporting on "the watcher" and the haunting of a dream house, which was optioned by Netflix, and ambitious magazine packages on the alt-right, sex and relationships on college campuses, and more. She was part of a team that won the 2016 George Polk Award for magazine reporting for New York's catalyzing cover story on Bill Cosby and the dozens of women who came forward to accuse him of rape or sexual assault. She is also a co-host of Slate's The Waves podcast on gender.
Genevieve Smith joined New York in 2012 as a senior editor focusing on news and features, and in 2016 was promoted to editor-at-large, to reflect her expanded role in shepherding complex projects both in print and online. In 2015, a project she conceived of and oversaw on the history of a single block in Brooklyn was awarded a National Magazine Award for multimedia storytelling; she has overseen countless other features, infographics, and special issues, including cover stories on the media's role in the 2016 election, the border crisis, the impact of Facebook, and national politics. She helped oversee the Women & Power and marriage special issues.