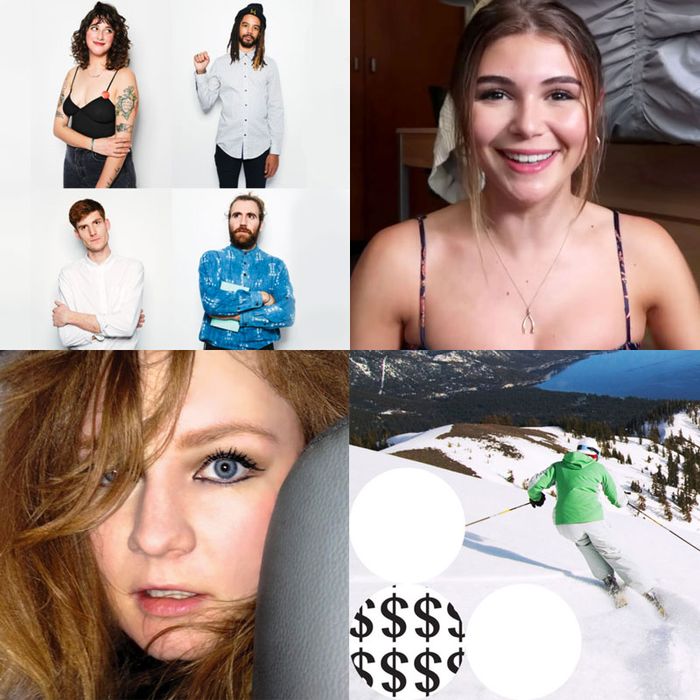 Photo: Clockwise from top left: Kyle Dorosz, YouTube, Getty Images (3), Sergio Corvacho
Last May, New York contributing editor Jessica Pressler kicked off "grifter season" or the "summer of scam" with a much buzzed-about feature on Anna "Delvey" Sorokin, the Russia-born would-be socialite who ran a "grifter scam worthy of the Instagram age." The story was New York's No. 3 most-engaged story of 2018, and was quickly optioned for a TV series by Netflix and Shondaland. Sorokin was back in the news in March, as her trial for grand larceny and theft of services got underway in New York City, propelling Pressler's feature to the position of most-engaged story of the month among New York's sites, measured by time spent (the average for Pressler's piece was nine minutes, an eternity online).
Scammer season continues apace in 2019, with two of the top ten stories for March covering the college admissions scandal that touched upon many of New York's preoccupations. The Cut's Get That Money pop-up blog, exploring the many ways women think about their finances, also supplied two of the stories that readers spent the most time with in March, across Intelligencer, the Cut, Vulture, Grub Street, and the Strategist. These are the kinds of stories that readers get unlimited access to as digital subscribers to New York.
10. Pinkos Have More Fun
9. I Retired at 38. Here's What I Didn't Expect.
8. The 11 Most Disturbing Michael Jackson Allegations in Leaving Neverland
7. What It's Like to Grow Up With More Money Than You'll Ever Spend
6. What Every Kid in the College Admissions Scandal Knew About the Scam
5. The 100 Best Movies on Netflix Right Now
4. Imagine Committing Fraud for a Kid and Then She Just Starts Vlogging
3. New on Netflix: March 2019
2. An Awkward Kiss Changed How I Saw Joe Biden
1. Maybe She Had So Much Money She Just Lost Track of It