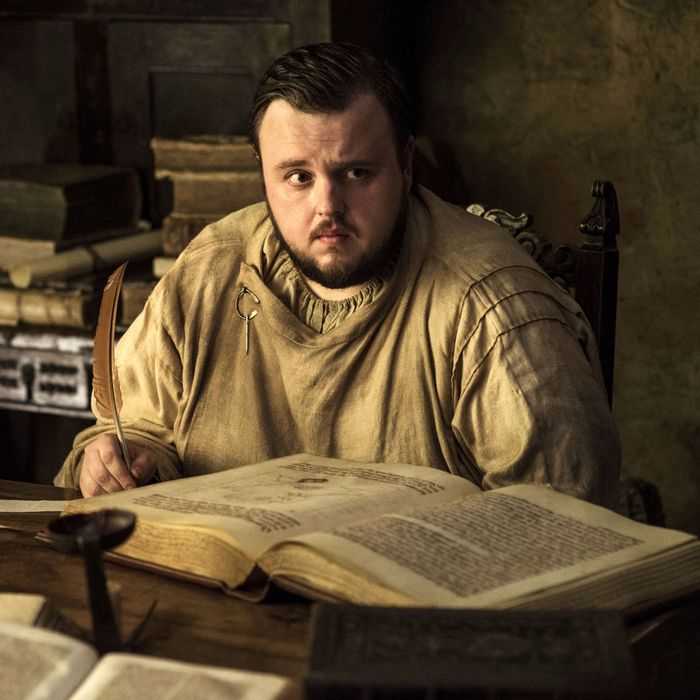 New York Magazine began its long history covering Game of Thrones with a whisper. "There's not much to go on here, but in the Game of Thrones world … seasons last for decades, so 'winter is coming' is fairly intense," wrote Edith Zimmerman, then an assistant editor at Vulture (now a health writer at the Cut), about the first teaser, when it aired in 2010. On April 17, 2011, George R.R. Martin's A Song of Ice and Fire finally made its debut on HBO, and Vulture posted its first recap of the show, a debate between superfan Adam Pasick and newbie Margaret Lyons about whether or not they'd be sticking with the series. Though the show's initial low ratings didn't seem promising to many, West Coast editor Josef Adalian predicted that HBO would stick with it, with a post the morning after the show's premiere titled "Game of Thrones Is No Boardwalk Empire."
Some 1,613 articles later, New York Magazine and its sites have stuck with the series to the bitter end. With a total of 1,483 Game of Thrones–tagged posts on Vulture alone, 108 on the Cut, and 10 on Grub Street and Intelligencer, respectively, coverage of the show has attracted 6,370,332 unique visitors in the last two years alone. Recappers of the show have included 2020 presidential hopeful Elizabeth Warren, actor Andy Daly (Keith Quinn on the final season of Veep), and Vulture writers Rachel Handler and Nina Shen Rastogi, who has been doing them regularly for the past five seasons. In April 2019, Game of Thrones accounted for 13 percent of traffic across New York Magazine's websites.
It takes a kingdom to cover Game of Thrones for Vulture, but the staffers manning the ship this season include Matt Zoller Seitz, Nate Jones, Rachel Handler, Jackson McHenry, Jen Chaney, and Kathryn VanArendonk. Of everything he's written about the show over the years, McHenry's favorite contribution to Thrones lore was his personal obsession with whether or not Euron Greyjoy was hot. VanArendonk says her favorite episode of the show to date happens to be "A Knight of the Seven Kingdoms," from the most recent season. "I love the way it lets everyone sit around and chat," she says. "I love when Brienne gets knighted, and I love that for a few brief conversations, the characters get a chance to actually acknowledge all the trauma they've experienced." Vulture's editor, Neil Janowitz, feels the site's coverage of the show has encompassed everything they do best. "We shared and understood the enthusiasm that viewers had for the show, and from there were able to produce, with head-spinning speed, an array of stories that were deeply informed, considered, humorous, and however else unmistakably Vulture," he says. "As impressive as it was to read our Game of Thrones coverage, it was even more so to watch it come together in real time on Sunday nights."
From ranking the names on Games of Thrones on how Game of Thrones–y they are, to why the food is the best part of the show, to heated dives into Jaime Lannister's hair, New York has been devoted in its high- and lowbrow analysis of the show. Regardless of whether it actually winds up being the last show we all watch together, it likely won't be the last one we get so hopelessly obsessed with that we write 1,613 articles about it. (At least, we don't expect it to be.)
If you like stories like these, consider subscribing to New York.