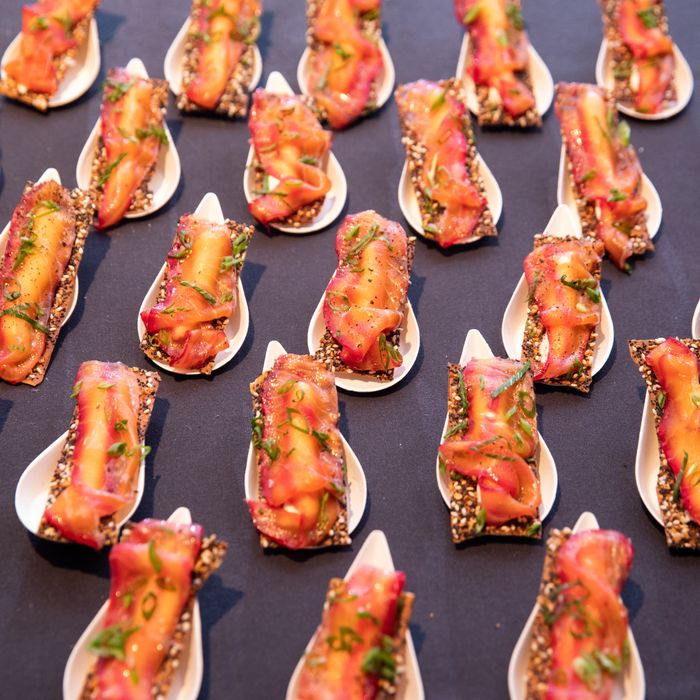 Christopher Lane/
New York
Magazine
Photo: Christopher Lane/NYM
New York Magazine's 21st annual edition of its signature culinary event New York Taste will be held on Monday, October 21, from 7 to 9 p.m. (VIP hour 6 to 7 p.m.) at the Waterfront New York. Curated by New York and Grub Street editors, the event features more than 40 celebrated chefs and rising stars on the New York restaurant scene, and a portion of the proceeds will be donated to exclusive charity partner City Harvest, to help feed New Yorkers in need. In addition, Adam Platt, New York Magazine's chief restaurant critic, will be signing copies of his new memoir, The Book of Eating, in the VIP lounge. Tickets are on sale at nymag.com/taste, and regular updates will be posted to Twitter and Instagram using #NYTaste.
The tasting event will feature samples of signature dishes and drinks from world-renowned talent, including Zach Zeidman (Café Altro Paradiso), Renata Ameni (Crown Shy), Chris Cheung (East Wind Snack Shop), Matthew Hyland and Emily Hyland (Emmy Squared), Miro Uskokovic (Gramercy Tavern), Sam Yoo (Golden Diner), Melissa Weller (High Street on Hudson), Claire Sprouse (Hunky Dory), Moonlynn Tsai (Kopitiam), Pam Weekes and Connie McDonald (Levain Bakery), Greg Baxtrom (Maison Yaki), Bill Clark and Libby Willis (MeMe's Diner), Jilbert El-Zmetr & Michael Sadler (Republic of Booza), Steve Tarpin (Steve's Authentic Key Lime Pie), and Cedric Vongerichten (Wayan), among many others.
New York Taste hosts over 1,000 guests at the Waterfront New York, located at 269 11th Avenue, with general-admission tickets for $130 and VIP tickets for $230. The VIP ticket includes admission to a VIP preview hour (6 to 7 p.m.) and access to the VIP lounge, plus a VIP gift bag filled with a variety of culinary essentials.
* Adda Indian Canteen * Alta Calidad Taqueria * Breads Bakery * Bonsai Kakigōri * Café Altro Paradiso * Chama Mama * Crown Shy * Don Angie * East Wind Snack Shop * Emmy Squared * Gramercy Tavern * Golden Diner * Hanoi Soup Shop * HaSalon * High Street on Hudson * Hunky Dory * Jungle Bird * Kāwi * Kopitiam * Levain Bakery * Maison Yaki * MeMe's Diner * Mifune * Nur * Oxalis * Pegu Club * Republic of Booza * Rezdôra * Saint Julivert * Silk Cakes * Steve's Authentic Key Lime Pie * the Aviary NYC * the Beatrice Inn * Undercote * Wayan * Wayla *
Sponsored by:
Renaissance Hotels, SHOWTIME®, Stella Artois