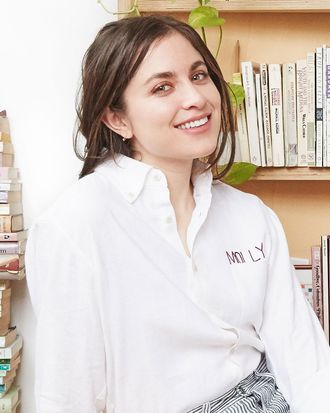 Courtesy of Molly Young
Photo: Courtesy of Molly Young
David Haskell, editor-in-chief at New York Magazine, announced today that Molly Young has joined the company as literary critic for New York and Vulture. She will be contributing critical essays on books (recent and past), writing, and language; she will also bring her wide-ranging monthly newsletter of book recommendations and analysis. She started on August 1.
"For the past year or so, my favorite publication in New York has been Molly's newsletter, an astonishingly perfect combination of wit and brains and useful guidance through the world of books far beyond simply the newest releases," says Haskell. "I've been editing Molly on and off for almost a decade and have watched her master many genres of magazine journalism. I'm incredibly excited to see what she does with the role of literary critic, where her mandate will be to examine and explore language and writing across all of contemporary culture."
Young has contributed to the magazine since 2011, writing on a range of topics including Yahoo's acquisition of Tumblr and the smelliest block in New York; profiling figures such as Marie Kondo and Susan Miller; and, more recently, contributing dispatches for New York's shopping and ecommerce site The Strategist. Young has been a contributing writer to the New York Times Magazine and has written extensively for the New York Times Book Review, where she wrote a column, as well as n+1. She has had bylines in GQ, Elle, The Economist, The Poetry Foundation, T Magazine, and more.
Young's love of wordplay is nowhere more evident than in her side hustle as a crossword-puzzle maker. She is the in-house crossword constructor for Kinfolk, and has written puzzles for the New York Times. Young is co-author of D C-T!, an illustrated play on phonetic language, which came out in Spring 2018 from Penguin Books.