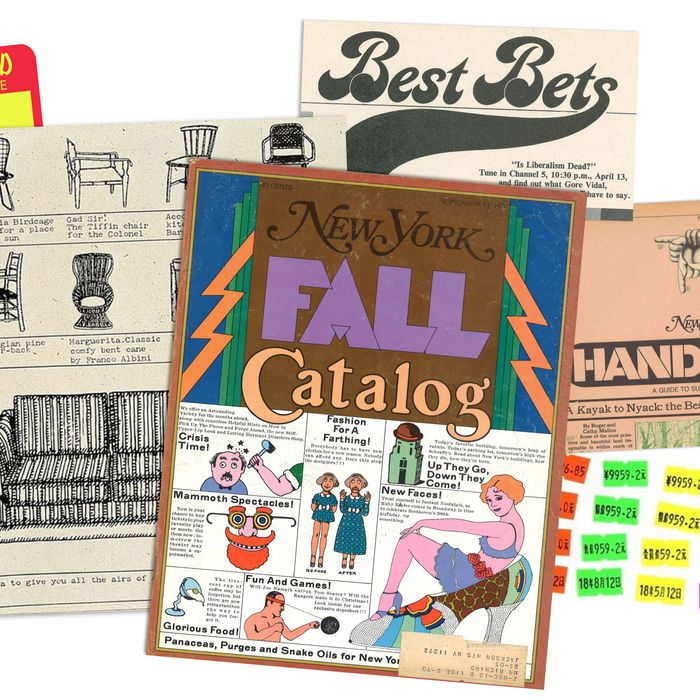 Some of the materials assembled during the visual research phase of the Strategist redesign.
Photo: The Strategist
The Strategist, New York Magazine's site dedicated to shopping the internet smartly, today unveiled a redesign, including a new brand identity and homepage design. The new design is a digital ode to some of the pioneers of curated catalogue shopping and the vernacular language of retail, referencing heavily from New York Magazine's own visual heritage.
The new homepage is designed to better showcase the breadth of the site by highlighting our columnists, lifting up packages and themes, and elevating time-sensitive pieces like sales, moving away from the reverse-chronological blog format. Many users come to the site for the joy of browsing and discovery, and the new homepage creates a hub for habitual return visits, while serving as a better showcase of the Strategist's coverage for new visitors too.
"To arrive at the new branding and visual identity for the Strategist, we explored the graphic roots of New York's service journalism, traced typographic connections from there to the 1960s and '70s catalogues of Habitat (a pioneer of curated retail), and surveyed an array of retail ephemera," says Ian Adelman, chief creative officer at New York Media. "People come to the Strategist for the expert shopping guidance and recommendations, of course, but they also read us for the journalism — for our voice. It's useful and fun. The team created something that reflects that — a visual presence and presentation that feels like the intersection of a smart journal and a dynamic catalogue."
"It's so great that readers can finally — with one glance at this new homepage — understand the joy/utility that the Strategist offers; where you can find a months-long project ranking 100 notebooks alongside a reported story on the best moustache wax according to experts alongside an investigation into the status items among classics professors," says Alexis Swerdloff, Strategist editor.
In other Strategist news, the site will be launching in the U.K. next month, with its first international expansion (and the first from parent company New York Media) led by journalist and author Ailbhe Malone.