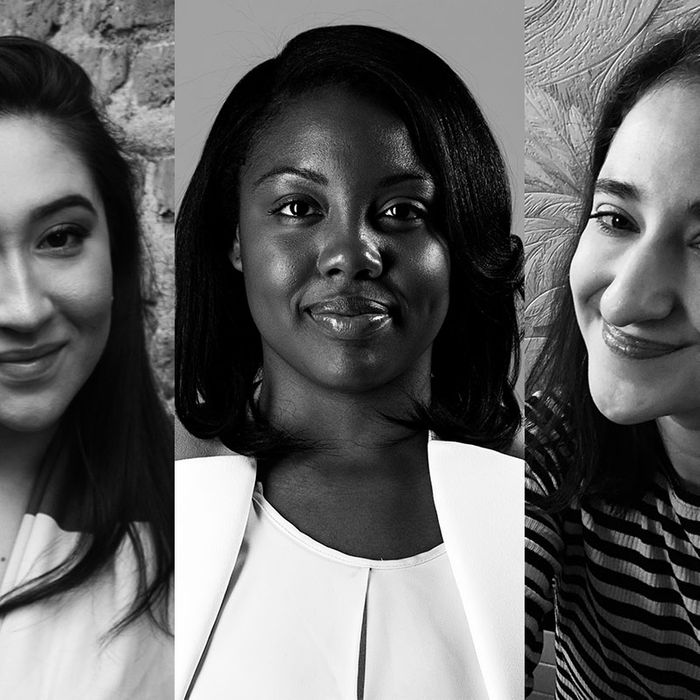 Sangeeta Singh-Kurtz, Adrienne Green, and Kerensa Cadenas
Photo: Courtesy of the subjects
The Cut's president and editor-in-chief Stella Bugbee announced today that Adrienne Green and Kerensa Cadenas are joining the Cut as senior editors, with Sangeeta Singh-Kurtz coming on as a senior writer. Green will oversee bigger projects across the site, focusing on culture and politics; Cadenas will be editing pop-culture coverage; and Singh-Kurtz will be on the culture beat, writing about entertainment and the internet.
Adrienne Green (@adriennengreen) joins from The Atlantic, where she was managing editor and, prior to that, an assistant editor. In her time at The Atlantic, she helped oversee the editorial workflow and feature assignments for the print magazine, including special issues on Dr. Martin Luther King Jr. and the crisis facing American democracy. She also reported on culture and politics and often moderated live events. She received her B.S. in journalism from Ohio University.
Kerensa Cadenas (@kerensacadenas) joins from Entertainment Weekly, where she oversaw the movies section of the print magazine. Previously, she was deputy editor at Complex magazine and has held positions at Bustle, Cosmopolitan, and Vanity Fair. She has freelanced for the Cut and had bylines in Broadly, INTO, Esquire, and other publications. She received her M.A. in literary and cultural studies from Carnegie Mellon University and her B.A.S. in creative writing from Ohio University.
Sangeeta Singh-Kurtz (@sangeetaskurtz) joins from Quartz, where she was a reporter covering culture, politics, and fashion. She received her B.A. in political science from the University of Washington.
Additionally, the Cut's senior editor Izzy Grinspan is being promoted to deputy style editor (from senior editor); she will be responsible for the site's fashion and beauty coverage. And New York Magazine fact-checker Jordan Larson will be joining the Cut as an editor. She will edit essays for the site.