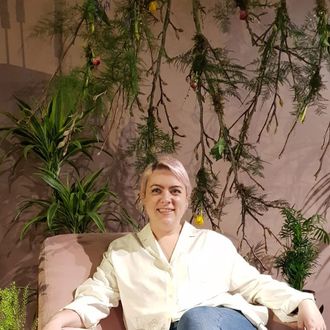 Photo: Courtesy of Ailbhe Malone
For every issue of New York's internal newsletter, "The New York Note," we interview a different employee. This month, we spoke with the editor of the newly launched Strategist UK, Ailbhe Malone, about the key differences between U.S. and U.K. audiences, who's on her "envy list," and more. Like its U.S. sister site, the Strategist UK is devoted to passionate, trustworthy recommendations to help readers navigate the vast online-shopping landscape.
You're the Strategist's new U.K. editor! Welcome to the team. For those who don't know you, can you give us a quick overview of your career to date? 
Hi! I actually started my career in print when I was still in university in Dublin, working as a music writer for NME in London, and as the London correspondent for Nylon. I spent a few years doing the kind of stories you dream of when you're 22 — getting far too drunk on tour with the cast of Skins, traveling around the U.K. with Robyn, going on crappy Ryanair flights to Europe to interview an indie band who would rather not talk to me, etc. I worked for an ill-fated magazine pinned to The X Factor that (to my shock) closed suddenly, then had a freakout and spent a year as a lecturer in journalism at UCA while also doing some shift work at a big ad agency. Not long after that, my old colleague from NME was launching BuzzFeed in the U.K. and asked me to be his first hire. I spent six years there and it was great! Really full-on but great! And here I am. That wasn't that quick.
Strategist editor Alexis Swerdloff's note introducing you to the staff mentioned the process of beginning to hire you started with a note you sent her via email about a year ago. Can you tell us a little bit about what brought you to the Strategist?
I'm a grade-A snooper, and chronically interested — so I was always a Strategist reader, even when I couldn't shop the products! It made sense to me that there was space in the U.K. market for a companion site, so I sent Alexis a very polite email saying: "Hi, I can do this for you if you'd like."
The Strategist UK isn't your first go at launching the U.K. arm of a U.S.–based publication. You were one of the early members of the BuzzFeed U.K. team. Can you tell us a little bit about the experience of bringing American media brands to a U.K. audience? Is it at all weird working for a company that's based elsewhere?
The main issue with launching American companies in the U.K. isn't actually the mechanics of the site, but the logistics. A great example is that when we launched BuzzFeed in the U.K., all our laptops came with American plugs, which meant a constant war over adapters in the office. If there's a mega-bug, how do we fix the site while tech in the U.S. are still asleep? Things like that are often greater pain points than growing an audience. Sorry to be a drip, but everyone at New York is so nice that it wasn't weird when I was the only U.K. hire.
What do you see as being the key difference between U.S. audiences and U.K. audiences when it comes to e-commerce? Are they interested in different things or do you see a lot of overlap?
It's a little bit early to answer this question, as the U.K. site has only been live for a week. Anecdotally, the U.K. readers love beauty, tech, homewares — I see less interest in parenting than the U.S. audience, but it's early days yet.
Who do you see as being the Strategist's best competitors in the U.K.? Are there any stories from other publications you'd put on your "envy list" (i.e., if you could steal a story from a rival publication and put it on the Strategist what would it be)?
There isn't really a site doing what the Strategist is doing, which is why I wanted to launch here! Women's legacy media like Cosmopolitan, etc. have launched e-commerce verticals, but not in a consistent, thoughtful way. This story isn't particularly Strategist, but I think it's very New York: https://www.tatler.com/gallery/inside-cirencesters-royal-agricultural-university.
You have written TWO books: 101 Tiny Changes to Brighten Your World and 101 Tiny Changes to Brighten Your Day. Both focus on the small things you can do to look after yourself. In that vein, what are some of the most important parts of your daily routine? What little things help you stay balanced?
I have! Thank you for the promo! This sounds like a backdoor brag, but I am incredibly good at focusing — to the extent that I will work for five hours without noticing I'm hungry. So I make sure to set an alarm to stop working, and buy in lots of normal food (not just instant noodles) to make sure I take a break. I also look after a friend's naughty dog once a week, which is a good reality check.
As you probably know, the Strategist has a long-running "What I Can't Live Without" column where we ask notable people what they can't live without. Who are your white whale "What I Can't Live Without" subjects for the Strategist UK?
Meghan Markle, Gemma Collins, and Danny Dyer (a classic "Walks Into a Bar" lineup).
Do you have any hobbies/obsessions/specialties?
I'm a whiz at pronouncing Irish names (obviously) and am probably too invested in finding you the right mascara.
Last question: How do you pronounce "Ailbhe"?
"Alva"!