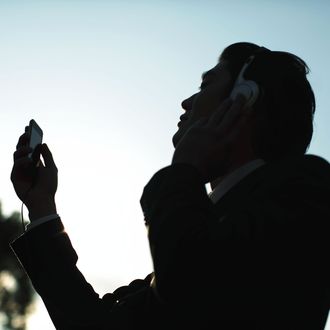 Vulture editor Neil Janowitz today announced that the site is ramping up coverage of podcasts, as the medium attracts more listeners and the site's readers are hungry for podcast news and reviews.
The expansion includes the launch of 1.5x Speed, a weekly Vulture recommendations newsletter from Nick Quah (sign up here), Vulture's podcast critic and creator of the industry-leading Hot Pod newsletter, which will also be moving to Vulture as a syndicated weekly column on the site. In addition, Vulture will now have a dedicated section at Vulture.com/podcasts/, and will be publishing more frequent podcast features and reviews.
"Vulture was one of the first sites to have a dedicated podcast critic in Nick Quah, and I'm thrilled to be expanding both his footprint on the sites and our coverage of the medium more broadly. Our readers devour podcast stories as they navigate that ever-expanding universe," says Janowitz.
The brand-new 1.5x Speed newsletter by Quah launches on Wednesday, August 26, and each week will offer podcast recommendations — mostly new, but also some older podcasts worth revisiting or discovering. Quah has been Vulture's podcast critic since 2017, and his Hot Pod newsletter will be syndicated to Vulture every Tuesday starting August 25. 1.5x Speed follows Vulture's Read Like the Wind newsletter featuring book recommendations, and the Buffering newsletter covering the TV industry.
"It's been pretty wild to see podcasting grow to the extent that it has, and I'm excited to have a new space where I can more regularly draw attention to the shows that I love, that I find the most interesting, and that I think say something about where the medium is going," says Quah.
In addition to 1.5x Speed and Hot Pod, Vulture will be increasing its podcast coverage with more frequent reviews and features, with upcoming coverage that includes, just for starters, an interview with Karina Longworth, creator of You Must Remember This, a podcast on the forgotten history of Hollywood's first century; an essay on the influence of Reply All; a look at the history and future of radio comedy; and coverage of the 100th episode of Vulture's own podcast, Good One, featuring John Mulaney on the creation of The Sack Lunch Bunch.