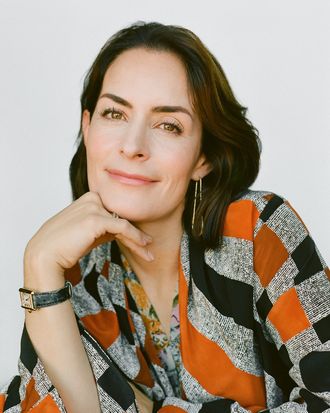 Photo: Courtesy of The Cut
Stella Bugbee, SVP and editor-in-chief of the Cut, announced today that she would step down from her current role and become an editor-at-large at New York Magazine. In her new role, she will remain a senior member of the editorial team, working on journalism projects that span the entire print and digital magazine; developing a new flagship podcast alongside editorial director for audio Hanna Rosin; and working closely with editor-in-chief David Haskell on shaping editorial strategy decisions across the magazine, especially to support New York's digital subscription business. Bugbee will continue as an executive producer of The Cut podcast and write a regular column about culture, fashion, and politics.
Today, Vox Media kicks off a search for a new editor to lead the Cut into its next chapter.
Since taking over the Cut in 2012, Bugbee helped shape it into a leading women's media brand, widely recognized for editorial excellence and innovation, including being named Website of the Year on Adweek's 2018 Hot List. Under Bugbee's leadership, the Cut expanded both its coverage areas and the mediums it worked in, notably with a 2017 redesign that gave more room to coverage of politics, careers, health, gender issues, and more. The Cut first moved into audio with the Gracie Award–winning podcast The Cut on Tuesdays, and stretched its muscles in merch, Snapchat, and live events. The Cut is reaching more readers than at any time in its history, hitting a record of 14 million-plus readers in June 2020.
Editor-in-chief David Haskell wrote in a note to New York Magazine's staff of Bugbee's leadership: "[The Cut] grew into something gorgeous, playful, inexhaustible, significant. It took risks and evolved and constantly found new forms of expression—while at the same time always refining, sculpting and strengthening its identity. It became a phenomenal success."
While she will begin taking on aspects of her new role immediately, Bugbee will work with executive editor Melissa Dahl and the Cut's senior editors to continue running the site until a new editor is hired.
Bugbee shared the following memo with the Cut's staff this morning:
To the inimitable Cut staff,




I can't believe I am saying this, but after 9 years, I am no longer going to be the editor of the Cut. This is a decision I've been mulling for a while, even before the pandemic. It was something that I thought about long and hard, discussed with David for months, and ultimately decided on doing now. It's been a very challenging year for everybody but as we settle into a "new normal" way of working, it seems like the right time to think about the future. 




While I am no longer going to be the editor-in-chief, I will continue working at New York. I'll be moving over to become an editor-at-large for the magazine, working on the Cut podcast, taking on new podcast projects, and helping build our subscriptions business. I'll be on hand to brainstorm headlines as needed (still my favorite part of the job), and contributing as a writer. 




In the spring of 2011, at the suggestion of David, I met with Adam Moss and Ben Williams about "maybe helping on expanding what the Cut could be." I entered into this project with few expectations and loads of enthusiasm to learn from the people I most admired in journalism. This fall will mark the third presidential election I have covered at the Cut—a sentence I couldn't have imagined typing back in 2011.




I am so proud of the work we made together. When we relaunched the site in 2017 I calculated that we'd published approximately 60,000 posts since our last relaunch in 2012. There've been several thousand more since then. And still I can recall vividly some of the small, exquisite blogs that made us and our readers laugh. We broke news, we made news, we got angry, we started conversations, coined terms, made iconic tee shirts and an award winning podcast. We produced decadent digital covers, several print issues and even events. We covered the best, worst and most unhinged looks from ~600 red carpets. When I think of the things I am most proud of, there are the obvious pieces like the definitive take on the millennial aesthetic, or the Lizzo profile timed just right, or the many photo projects we made with up-and-coming female photographers. There are also so many less obvious pieces that stick with me, like the essay about One Direction, that was actually about mortality, or the fabulous photos of the Russian women in Brighton Beach, or the time we exposed the world to the fact that Tom Brady had never eaten a strawberry (that might be one of my I Think About This A Lot submissions one day). Then there was the steady drumbeat of excellent columns like Ask Polly and Madame Clairevoyant that made even mundane weekdays better. There's too much to even possibly summarize.




I had no idea how much this job would change my life. I got to work with some of the funniest, smartest women, during a time when women became the center of the news, and cover fashion at a time when the industry went through seismic changes. We fought to make people believe what we knew: that we could do whatever we wanted, cover style, publish personal essays, profiles, columns and fiction, and be unapologetically horny at the same time. We never stopped trying to top ourselves and we never stopped trying to have fun.




I have watched as many of my Cut colleagues, and the writers and photographers we gave first commissions to, have gone on to have impressive careers that are changing media. You and your hard work are what makes it so great to be a part of the Cut. I have found such comfort in your company, and wish every person I know could experience the Cut's slack room as news breaks. It's demented, inspired, and cathartic all at once. Lucky for me, I will still be able to be a part of those conversations, this time in a different role.




My newborn baby was only 6 months at the time I started to think about what the Cut could be. This week he will turn 10. I often joke that he has a twin sister called the Cut and that I love them equally. I never expected to do this job as long as I've done it (527 years in Internet time), and I think it's the right moment for someone else to take on the great challenge of running it, so that I can focus on other creative growth projects in the company. I'll be here to answer any questions, and to transition out of this role and into my new one in the next several weeks. 




I want to take one second more to thank all of you who are on the team right now especially, as this has been by far the most challenging 6 months of our time at the Cut and you have risen to the occasion over and over. If you can get through that, you can do anything. I have so much confidence in you all to do your best work yet in the years to come. I'm excited for the Cut to enter a new phase, as stylish and ambitious as ever, under a new leader. The search for that person begins today. 




Stella