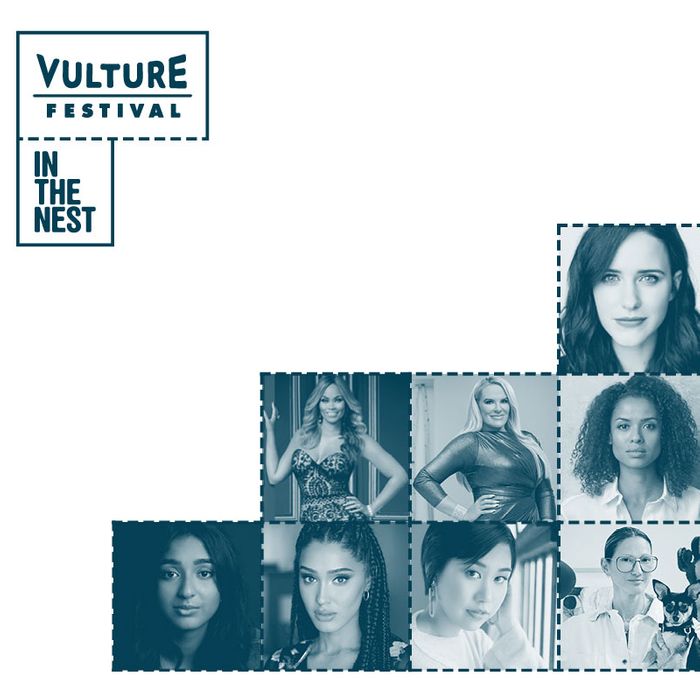 Vulture today announced additions to the lineup for its annual pop-culture extravaganza, Vulture Festival, which is returning for a seventh year with a full week of high-profile events bringing the entertainment site to life. Taking place from October 26 to 30, the festival lets fans around the world experience an incredible array of actors in conversation, screenings, cast reunions, and unique surprises that only Vulture can provide — right in their living rooms. Additional events will be announced in the coming weeks.
Joining the already-announced events, additions to the weeklong virtual showcase are:
• A PUPPY PLAYDATE WITH RACHEL BROSNAHAN. Rachel Brosnahan is an actress, producer, Emmy and Golden Globe winner, and human being, but she is also so much more. She is, above all else, a dog mom. And, as this is our very first pet-inclusive Vulture Festival, we get to meet Brosnahan's very good boy, Winston, and also her very good girl, Nikki! Join us for an evening full of treats, tricks, and conversation about (wo)man's best friend.
• LITERALLY GOING BEYOND THE LIGHTS WITH THE CAST AND WRITER-DIRECTOR OF BEYOND THE LIGHTS. Years ago, Gina Prince-Bythewood had a vision: a story about fame, depression, isolation, and love. But it was a vision she'd have to fight for during the film's years-long journey to the screen. Vulture film critic Bilge Ebiri will be joined by Prince-Bythewood and cast members Gugu Mbatha-Raw and Minnie Driver to discuss the making of this truly rare gem of a romantic drama and why we continue to be completely obsessed with it.
• NEVER HAVE I EVER BEEN TO VULTURE FESTIVAL. Our favorite teen rom-com comes to Vulture Festival for the very first time, as Maitreyi Ramakrishnan, Ramona Young, and Lee Rodriguez sit down with us for a candid goss sesh on everything we love about this gloriously delightful (and tragic) show. Join Vulture editor Tara Abell for a fun evening that will make it so you never have to say, "Never have I ever seen Never Have I Ever at Vulture Festival."
• STYLISH WITH JENNA LYONS, PRESENTED BY HBO MAX. Fashion icon Jenna Lyons helmed J.Crew for almost a decade and is starting a new business in the home, beauty, and fashion space aimed at helping people from all walks of life find their own style, and she's documenting the journey on her upcoming show on HBO Max, Stylish With Jenna Lyons. In Vulture Festival's most fashionable event, we'll be watching the first episode of the series and then having a chat with Lyons herself, along with her chief of staff Kyle DeFord and stylist Sarah Clary. You don't necessarily have to dress up for this, but it's an excellent excuse to do so.
• THE REAL HOUSEWIVES WELCOMING COMMITTEE WITH GIZELLE BRYANT AND HEATHER GAY. Award-winning author, co-host of the upcoming Bravo's Chat Room, and Real Housewife of Potomac Gizelle Bryant will be joined in conversation by a brand-new member of the Real Housewives Cinematic Universe, Heather Gay, of the upcoming The Real Housewives of Salt Lake City. So grab your favorite bottle of wine and get ready to catch up on all the tea while learning what it takes to be one of the few, the glamorous, the Real Housewives.
Vulture Festival: In the Nest offers two ticket tiers: $30 for the full week of events, and $50 for the full week of events plus a subscription to New York Magazine. Events will go live at scheduled times each day from October 26 to 30. After each individual event airs, ticket holders can watch the recording on demand through Sunday, November 1. From September 30 to October 30, 20 percent of the price for each festival ticket sold will be donated to charities that support youth political empowerment and the fight against racial injustice. Follow @VultureFestival and @Vulture for updates.
The festival is sponsored by CBS All Access, HBO Max, OnePlus, and Yappa.