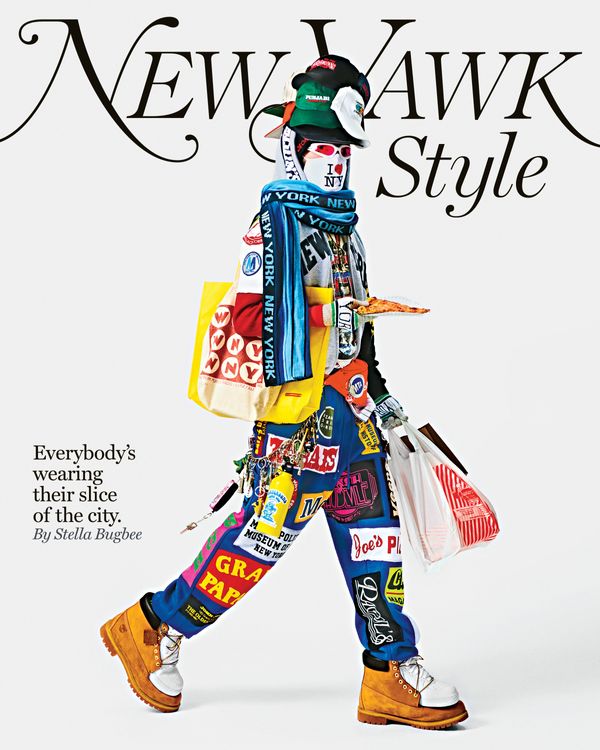 New York Magazine's March 1-14, 2021 cover
Art: Photograph by Bobby Doherty for New York Magazine. Styling by Miyako Bellizzi. Styling assistance by Lyndsea LaMarr, Alex Lee, Alex Kennedy. Soft Styling by Johnny Machado. Pants, shoes and chain custom made by stylist. Vintage courtesy of Jason Fox and Fantasy Explosion. Additional items courtesy of Charles W. McFarlane, The Neighborhood Spot, Veniero's, Punjabi Deli, The MET, The Odeon, Mamoun's, Economy Candy, WNYC, Gem Spa, Katz Deli, Zabar's, Pearl River Mart, B & H Dairy, Grays Papaya, MOMA, American Museum of Natural History, The Sockman, Trash & Vaudeville, Keens, Joe's Pizza, Raoul's, Junior's.
A year into the pandemic, with high-fashion trends nonexis­tent, New Yorkers are supporting their local establishments by cloaking themselves in NYC merch. In a cover essay for New York Magazine's Style issue, editor-at-large Stella Bugbee looks at the newest fashion trend in New York–New York itself. Bugbee dubs the trend Zizmorcore, after the subway ads of dermatologist Dr. Jonathan Zizmor, ubiquitous in the city from the early 1980s through the aughts. "Zizmorcore is about wearing merch from places that feel truly authentic to New York. … It's not relegated strictly to obvious classics like the 92nd Street Y, the Oyster Bar, or Spumoni Gardens. Its only rock-solid rule is that the thing you're repping could not exist in the same way in another city," Bugbee writes. Think Jake Gyllenhaal in a Russ & Daughters shirt.
For the cover, the magazine collaborated with costume designer Miyako Bellizzi, known for the ultraprecise style of Uncut Gems, to create a merch monster. Bellizzi and her team scoured the city for merch, swag, and classic souvenirs, and sourced items from vintage treasure troves like Procell, Fantasy Explosion, and Chad Senzel Archive. The pants were custom made for the shoot using classic NYC logos cut from T-shirts. On the inspiration for the cover, Bugbee says: "We wanted to show the fantastic logos from some of the most recognizable New York institutions, in a playful way that instantly communicated this trend of repping the city. The guy walking, eating a slice, wearing all the gear at once was a humorous take on the new civic pride."
Bugbee's essay is accompanied by a four-page guide to some of the most-worn (and most-coveted) New York merch. And since New York has been putting out iterations of its own merch going back to its earliest years, and more recently has teamed up with OnlyNY and Marc Jacobs, the magazine is today introducing the New York Sweatshirt Edit for preorder. The collection features a hoodie with a puffy New York logo designed by the magazine's co-founder (and creator of the I ♥ NY logo) Milton Glaser, a Best Bet sweatshirt, and a Content sweatshirt from the Cut. The Style issue cover is available for sale as a poster or print.